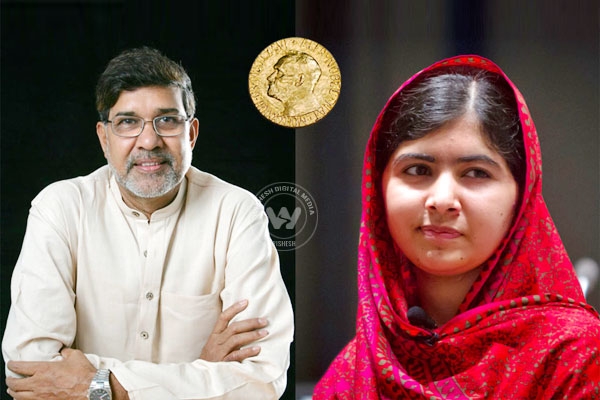 (Image source from: B-Town hails Nobel prize won by Satyarthi)
India's Kailash Satyarthi and Pakistan's Malala Yousafzai have won the Nobel Peace Prize on Friday for their selfless service toward humanity. Bollywood celebrities and the entire Hindi film industry have congratulate both of them, calling for peace between India and Pakistan.
Kailash Satyarthi is a child rights activist based in Delhi, while Yousufzai is a Pakistani teenager who stood up against the Taliban and survived a near-fatal shooting on her head.
Soon after it was reported that Satyarthi and Yousufzai will share the much coveted honour, Bollywood celebrities posted congratulatory messages on Twitter. Here are some tweets from the Indian film industry:
Madhur Bhandarkar: Delighted that #KailashSatyarthi & #Malala have been conferred #nobelprize2014! Proud moment for all who believe in world peace & prosperity.
Farhan Akhtar: Life feels good when good things happen to good people. Heartiest congratulations to Mr Kailash Satyarthi & Malala. #NobelPeacePrize.
Mahesh Bhatt: Kailash Satyarthi wins the Nobel Peace Prize 2014 for his work on promoting child rights in India.
Rahul Bose: Wonderful news about the #NobelPeacePrize. Congratulations, Kailash Satyarthi and Malala Yousufzai.
Riteish Deshmukh: Great news - Malala Yousafzai and Kailash Satyarthi win Nobel Peace Prize - #IndoPakPeace.
Anil Kapoor: Congratulations! Proud to hear that Malala Yousafzai & Kailash Satyarthi won the Nobel PEACE. @MalalaFund @k_satyarthi
Anupam Kher: CONGRATULATIONS to Kailash Satyarthi of India & Malala Yousafzai of Pakistan for Nobel PEACE Prize, 2014. Peace is Always a Possibility.
Hansal Mehta: Kailash Sathyarthi and Malala Yousufzai win the Nobel Peace Prize! India and Pakistan share a peace prize.
Purab Kohli: India and Pakistan - divided by political borders, united by peace! #NobelPeacePrize #KailashSatyarthi #Malala

(Picture Source: firstpost.in)
(AW: Pratima Tigga)