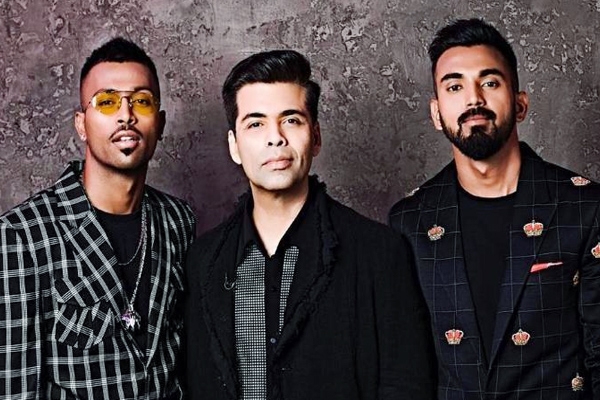 (Image source from: tosshub.com)
Indian crickets Hardik Pandya and KL Rahul have been making headlines for all the wrong reasons ever since they made an appearance on Karan Johar's Koffee with Karan.
Hardik had been under severe criticism after making sexist comments on the celebrity chat show.
However, Karan lately opened up about the current ruckus for the first time and said that the controversy has now gone into a zone which is beyond his control.
In an interaction with ET Now, the 46-year-old filmmaker said, "I have to say that I feel very responsible because it was my show, it was my platform. I invited them as guests and so the ramifications and repercussion of the show are my responsibility. I have had so many so many sleepless nights just wondering about how I can undo this damage, who is gonna listen to me. It's now gone into a zone which is beyond my control." 
Karan added, "I have to say and I don't defend myself when I say this. I have to say that the questions that I asked the two boys are the questions I ask everyone including women. Deepika (Padukone) and Alia (Bhatt) were on the show, I asked them those questions. I have no control about the answers that come my way."
The filmmaker also revealed that his show is run completely by women and none of them came up to him and said that it was inappropriate, admitting that he didn't think about what was happening.
Further, talking about what has happened with the cricketers, Karan said, "I regret what has happened to them. And, then there was talk about me actually enjoying the TRP, I don't care about the TRPs."
Karan then added that he is not justifying the conversation that happened on the episode. "I am just saying is that I think that perhaps things were said that may have crossed boundaries and I apologize because it was my platform from where it happened. I feel the boys have faced the price for it already," he said.
After receiving criticism for his comments which are being labeled as racist and sexist on social media, Hardik took to Instagram and posted an apology.
Following the controversy, Hardik along with KL Rahul has been suspended from the one Day International (ODI) series against Australia.
-Sowmya Sangam