You're The Driver Consulting Services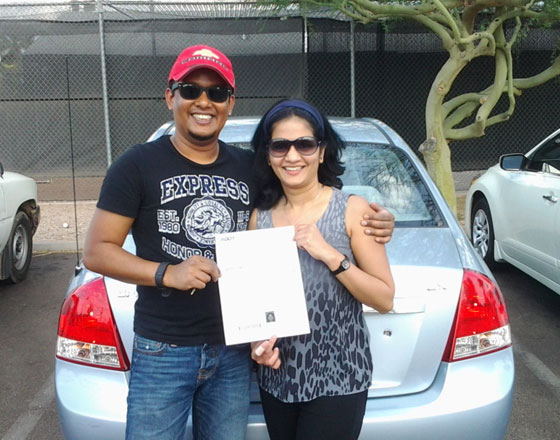 Important Safety Tips :
View properties in person, and always take someone with you. Never send or wire money to landlords. Classifieds does not offer any transaction or payment services. Stay safe - read our safety tips.
Contact Person----
Contact Number(602) 781-7454
Contact Emailwegotit@cox.net
Description
SIGN UP TO TAKE YOUR DRIVING TEST ON THE 30TH OF JULY AND IF YOU FAIL IT RETEST FOR FREE!!!!!! YOU MUST SIGN UP BEFORE THE 25TH TO GET THIS DEAL. 45 MINS OF PRACTICING THE 3 POINT TURN AND DRIVING THE AREA OF THE TEST. $80 SPECIAL PRICE. NO DISCOUNTS OR CONCESSIONS. WE PROVIDE CAR INSURANCE REGISTRATION AND PICK YOU UP/TAKE YOU HOME. THIS IS A GREAT SPECIAL OFFER SO DON''''''''T DELAY. TEXT YOUR NAME AND ADDRESS AND WHAT TIME YOU WANT TO GO. WE START PICKING UP AT 7AM AND GO TILL 4PM. DON''''T MISS THIS GREAT SPECIAL. HAVE YOUR PERMIT/PASSPORT AND VISAS WITH YOU WHEN I PICK YOU UP. THE TEST IS GIVEN AT A 3RD PARTY AUTHORIZED FACILITY IN MESA. YOU WILL RECEIVE THE SAME LICENSE AS YOU WOULD AT THE MVD. THE WAIT TIME IS MUCH LESS. THE FEE IS $80 CASH OR CHECK ONLY. HAVE PAYMENT WITH YOU OR YOU WILL BE CHARGED AN EXTRA $20 TO GO TO AN ATM. TEXT YOUR NAME AND ADDRESS AND WHAT TIME YOU WANT TO GO FOR YOUR PRACTICE AND TEST.

Related Ads
Driving School
GET YOUR DRIVER LICENSE IN A WEEK!!! 100% Successful DL !!! We can get you on the road in 2 to 8 hours of training in ou