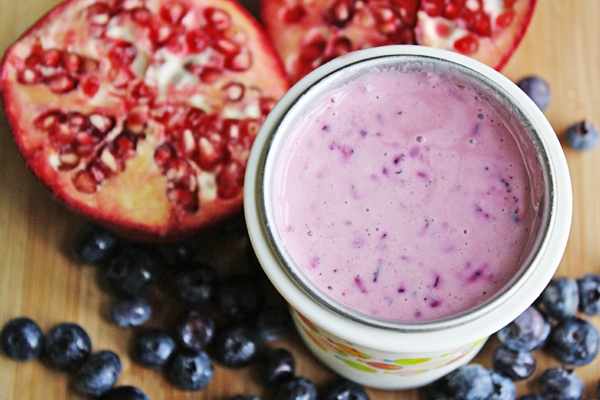 Pomegranate Berry Smoothie
Pomegranate juice: 1 cup
Greek yogurt: 1 cup
Frozen mixed berries: 1 cup
Bananas (frozen): 2
Instruction:
Place all ingredients in a blender and blend until smooth.
Procedure to make pomegranate juice: Collect pomegranate seeds in a blender and puree. Use a fine mesh strainer to strain the juice. If required add a spoon full of water and sugar. With one pomegranate you can make about 1/2 cup of juice.
Beery, Banana and Pomegranate Smoothie
Bananas (frozen ripe, peeled and cut into 1-inch pieces): 1
Frozen mixed berries: 1 cup
Low-fat plain yogurt: 1/2 cup
Pomegranate juice (plus more if necessary): 1/2 cup
Honey: 4 tsps
Instruction:
Combine all the ingredients in a blender. Purée the mixture until smooth. If the mixture is too thick, add two more tablespoons of pomegranate juice and blend again. Pour into glasses and serve cold.
-Sumana