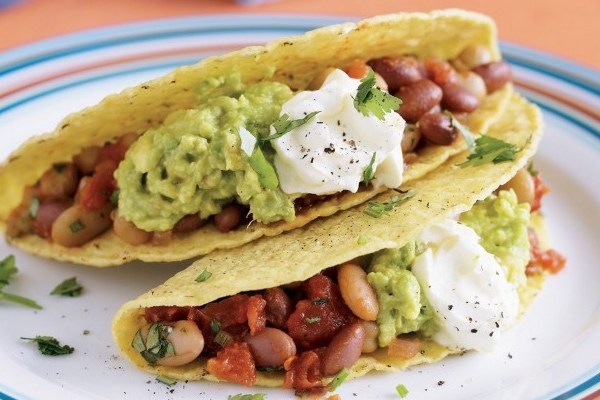 It is a simple, easy to make Mexican tacos recipe. It is made up with avocado filling. The less time consuming recipe is perfect for afternoon snack or a light meal.
Ingredients:
Cornitos Taco Dinner Kit: 1 Pack
Cornitos Refried beans: 200 g
Avocado cubes: 100 g
Lettuce: 100 g
Tomatoes deseeded & diced: 100 g
Mint Leaves: 10 g
Salt to taste
Grated Cheddar Cheese: 100 g
Sour Cream: 50 g
For the Filling:
Heat some oil in a pan and saute Avocado cubes and deseeded Tomatoes.
Just heat Cornitos Refried Beans for one minute.
Assembling the Tacos:
First, open the Cornitos Taco Dinner Kit.
Now, place Taco Shells on Taco Boat.
Line the Taco shells with lettuce.
Spoon mashed beans filling inside tacos.
Top it with Avocado and Diced Tomato filling.
Garnish with Grated Cheese and dollop of sour cream and mint.
Also Read: Cheesy Chicken Fingers!
Nandini