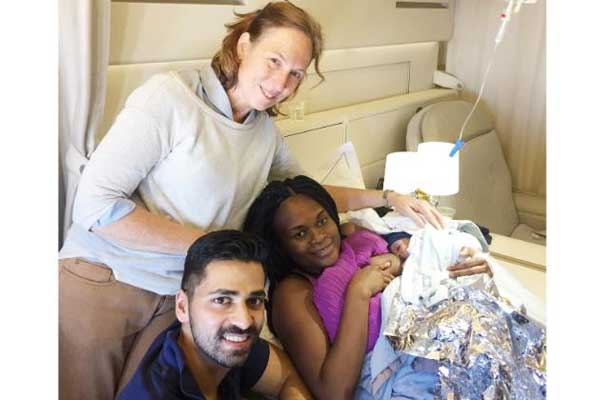 (Image source from: cnn.com)
An Indian American Urologist Dr Sij Hemal was not expecting a Gynaec role on his flight from Paris to JFK when a co-passenger on the Air France international flight went into labor, a week ahead of plan. Sij was traveling on a long-haul multi flight journey from New Delhi in India to Cleveland, OH in the US with flight changes at Paris and JFK New York. He was already half way his journey and tired when he was asked by flight attendants for help. As this second-year urology resident at Cleveland Clinic's Glickman Urological and Kidney Institute had spent his entire day traveling.

This 27 year old Urologist had planned to have a glass of champagne and watch "Side effects" to spend the journey and fall asleep. "I was pretty tired from jet lag," he stated. He boarded the flight soon after attending his best friend's wedding in India. But destiny had other plans, even before he could enjoy his bubbly he was called for an emergency on flight. A flight attendant was looking for doctors on board when Sij went ahead to offer his help.

There was a Nigerian Banker Toyin Ogyndipe, 41 and a mother of two kids, who was uneasy with chest pain and feeling dizziness. The plane was then flying over the southern coast of Greenland and making an emergency landing would require a two hour diversion to a U.S. military base in the Azores Island. Also the flight was still 4 plus hours away from JFK.

'She was covered with a blanket so I couldn't see that she was pregnant, but the pain she was describing sounded like contractions,' he said.  "She was complaining of back pain," Hemal told. "At first, I thought it might be kidney stones, but after she told me she was pregnant, I knew she was going into labor." 'My initial plan was to monitor her and her vitals but we did a cervical exam and that's when her water broke,' he said.  "Once they got to two minutes apart, that's when we knew we were going to deliver on the plane," Hemal said.

"I was pretty tired from jet lag," Dr. Hemal recalled in a post on Cleveland Clinic's website. "I thought I'd just have a drink and fall asleep. As it turned out, I'm glad I didn't drink anything." And as coincidence has it, he was seated next to a French pediatrician, both of whom helped in delivering the child.

"Her contractions were about 10 minutes apart, so the pediatrician and I began to monitor her vital signs and keep her comfortable," explains Dr. Hemal. Using the Air France flight's medical supplies to monitor vitals and contractions, Dr Hemal and the Pediatrician Dr. Susan Shepherd, of Senlis, France helped Toyin safely deliver a baby boy, after almost 30 minutes of pushing.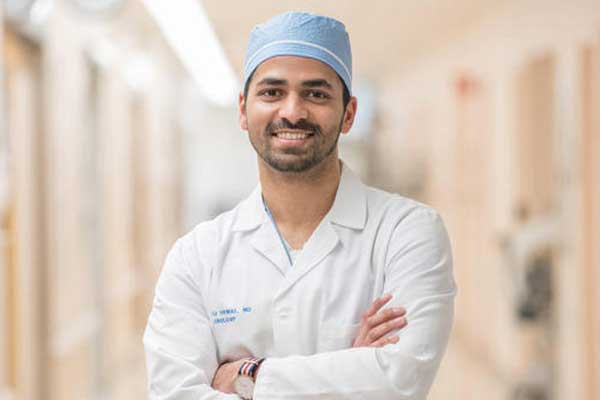 Image credit: cbsnews.com
Since they all had a coach ticket, the doctors suggested the patient be moved to First class with less passengers and more room for the delivery. "My ticket to first class!" he stated as a joke.

Toyin was accompanied by her 4 year old daughter Amy who was tended by air hostesses on flight. And the second child was delivered healthy and safely.

Although Sij is a Urologit but he did deliver 7 babies while in medical school. But no experience of doing in the situation he actually did. "We're trained to stay calm and think clearly in emergency situations," he adds. "I just tried to think ahead to what might go wrong, and come up with a creative solution."

He used surgical clamp and a shoe string to tie the umbilical cord and cut it with scissors later.

Toyin was relaxed throughout her delivery and she stated, "I was relaxed because I knew I was in safe hands. They did everything a doctor or midwife would have done if I was in the labor room in the hospital. Even better, if you ask me."

She names her newborn son, Jake who gets US citizenship as they were flying over US airspace when the child was delivered. Jake was normal and he soon began nursing within a few hours.

Upon landing at JFK Toyin and her baby was rushed to Jamaica Hospital Medical Centre which is 4 miles from the airport. The mother and child were discharged later that day.

Sij still had the last leg of his journey to Cleveland and he is in touch with Toyin regarding the health of the baby. "So much could have gone wrong, but it didn't. Being on that particular flight, sitting next to a pediatrician … it's like it was destiny," said Dr. Hemal. "Thanks to God, everything worked out."

'I'm very thankful for the great training we get at the Cleveland Clinic that has prepared us for emergencies and to anticipate the worst and be prepared and make the best out of situations,' he said.

By Minu Manisha