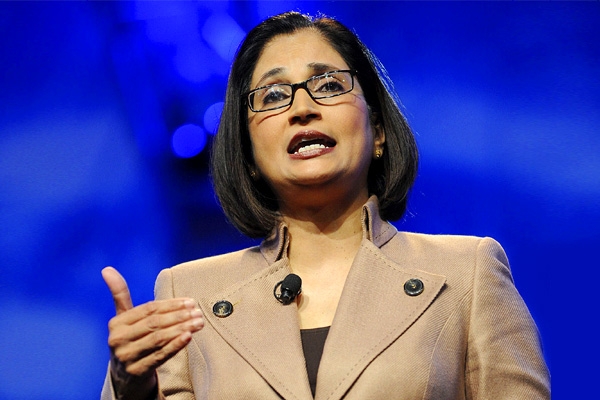 (Image source from: Padmasree Warrior not among the Cisco's new executive leadership team})
One of the 100 most powerful women in the World (According to Forbes last month issue) and popular female executive at the IT major Cisco, Padmasree Warrior, has stepped down from her post of Chief Technology Officer and will not be on the Cisco's new executive leadership team of ten members.
She was appointed as the strategic advisor, with immediate effect. She will be continuing in the new role through the restructuring and transition until September. The realigning has been taking place to work under the incoming CEO Chuck Robbins.
The 54-year-old Warrior has been associated with Cisco since 2008 in the position of CTO and senior vice-president of engineering. She has been described as "highly respected leader" for her contribution in innovation, strategic partnerships, investments and mergers and acquisitions, as per the blog post written by Robbins.
"Padmasree has led the success of many of our strategic partnerships and will remain with us until September to help finalise some of our key partnerships for the future. I am grateful for the impact she's had on Cisco and her commitment to helping us finalise these important alliances," he said.
In the new position, she will have to align technology development and corporate strategy for ensuring the predictions, transitions and perfection. Her position is crucial in placing Cisco as the top technological firm in the world.
The IIT-Delhi graduate and an alumnus of the prestigious Cornell University, has been receiving praises and awards for her contribution towards empowering the company and for proving a successful leader in the Silicon Valley.
She was ranked 84th in this year's Forbes list of 100 Most Powerful Women in the world. While other powerful Indian woman are: Indra Nooyi, was in 15th position, SBI chief Arundhati Bhattacharya was in 30th rank, ICICI bank head Chanda Kochhar ranked at 35, Biocon founder Kiran Mazumdar-Shaw was in 85th position and HT Media chairperson Shobhana Bhartia was ranked at 93rd position. (Forbes ranking)
Another India-born key employee Pankaj Patel, who joined the Cisco family in 1996, will have a seat in the new ten member team under incoming CEO. He will continue to lead Cisco's 25,000 development engineers and the company's $36 billion technology portfolio.

-Kannamsai