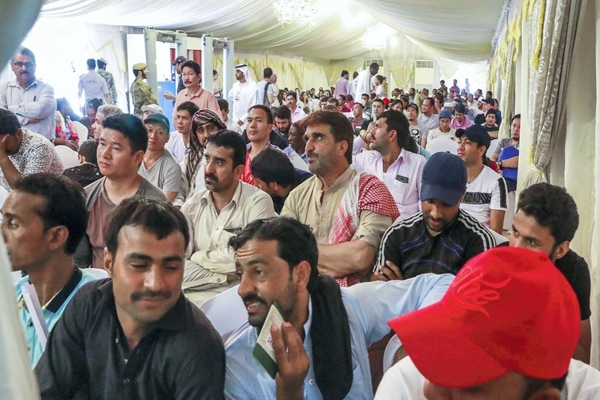 (Image source from: The National)
Indian residents in the United Arab Emirates (UAE) to a great extent have applied for short validity passport under the visa amnesty scheme which has been prolonged for a month.
According to a report in the National, thus far, about 1800 Indians living in the country have applied for abbreviated validity passport after the visa amnesty scheme was set up on August 1.
Under the visa amnesty program, foreign workers who were overstaying their permits will be capable to leave the country without paying any fine or going through jail term. Simultaneously, the scheme will also let workers look for a new job inside six months.
The scheme which was expected to end on October 31, has now been prolonged for a month till December 1, within which residents will have to apply for permits to stay in the country.
"A lot of people on expired passports have renewed their passport because of the six-month window for them to find a job," Indian ambassador to the UAE, Navdeep Suri was quoted as saying by the report.
According to a report, the Indian embassy has also issued 3,868 emergency certificates that will enable Indian citizens, who have misplaced their passports or other crucial certificates, to leave the country.
Suri noted that people who had to experience the utmost difficult challenges after losing credential apply for emergency certificates.
"When we talk to people who show up asking for an emergency certificate, all they want is to go back home, you can see their desperation," the National cited Suri as saying.
He added, "Some have been cheated by agents on the Indian side or cheated by employers on this side. This happens particularly in the unskilled and semi-skilled category with the blue-collar workers. The emergency certificate is strictly a one-way travel document. For those who have taken emergency certificates back home, they cannot get a visa issued on this."
Brigadier Saeed Al Rashdi, acting director general of Foreign Affairs and Ports at the Federal Authority of Identity and Citizenship said the decision to extend the amnesty program will aid people without legal papers to get a new start to their life, state news agency Wam noted.
He also said that the authority has established nine centers including in Al Aweer in Dubai and Al Shahama, Al Ain and Al Dhafra in Abu Dhabi, as well as in Sharjah, Ajman, Fujairah, Ras Al Khaimah, and Umm Al Quwain to assist with the visa amnesty proceedings, the publication reported.
According to him, after the grace period is concluded, the government will initiate profound search programs to prosecute illegal residents.
The Indian community in the UAE, total 2.6 million, composes 30 percent of the entire population and is noted to be the largest expatriate community in the country.
-Sowmya Sangam