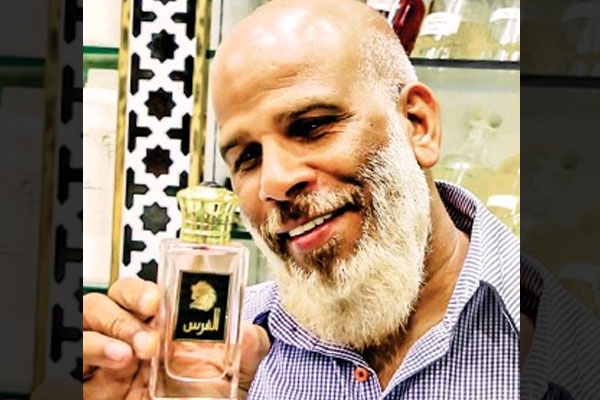 (Image source from: pressreader.com)
An Indian origin perfume seller in the United Arab Emirates, who was shot to fame for his famous perfume making skills has got another surprise when American singer-songwriter Gwen Stefani visited him this week.

Gwen, who was there in Dubai to perform at the Dubai World Cup held last Saturday, paid a visit to Yousuf Mohammed Ali Madappan at his shop in Deira. She wanted him to make some perfumes exclusively for her.

Madappan didn't let down. A perfume connoisseur who has been working in Deira's Gold Souq for 30 years, knew exactly what to prepare.

"I got a random phone call from a guy, who said he wanted me to make a 'custom perfume' for a lady. I asked him to bring her over, and they visited my store on Sunday at 11a.m.," Madappan told Khaleej Times.

"She asked me to make 2-3 custom fragrances for her. There were four other people with her. They spent nearly three hours at my shop. Stefani was so happy with the fragrances that she asked me for a hug and a kiss. I obliged with a hug and a traditional Arab cheek kiss. Then she recorded (the now viral) selfie video."
Video: US rockstar @gwenstefani meets #Dubai's viral perfume maker from India's #Kerala https://t.co/lFti88acwB pic.twitter.com/k1tkk3qsVp

— Khaleej Times (@khaleejtimes) April 1, 2019
Madappan ended up concocting two scents for her, one comprising patchouli, vanilla and musk notes, while the other was a traditional Arabian scent.

Recounting the high-profile visit, Maappan said that he was unaware of Stefani's celebrity status, otherwise, he would have taken a selfie or video with her and given her a royal treatment.

It was Madappan's famous perfume making skills that had led us to him for our 'Humans of UAE' video series. Published earlier this year in November, the video has fetched nearly 1.3 million views across all digital platforms.
By Sowmya Sangam