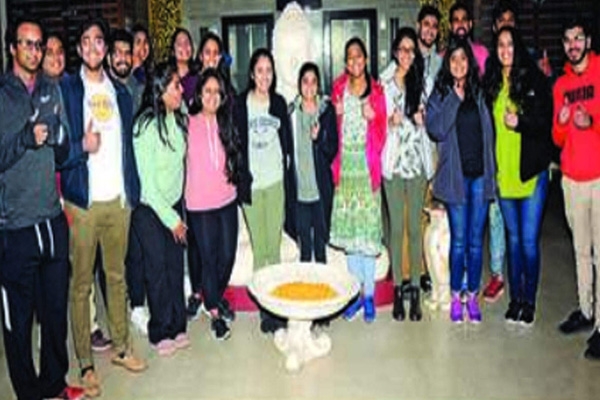 (Image source from: Times of India)
A group of 19 Indian-American students, pursuing pre-medical courses at different universities are on a 10-day education tour of Jharkhand and to other parts of the country to acquire the first-hand experience of medical practices in the state.
The educational program is organized every year by the Health Foundation for Rural India (HFRI) in collaboration with the Arogya Foundation in India which is running 35 resource centers across the country with five of them in Jharkhand alone.
"This is the fourth time I am visiting Jharkhand with a new set of students and the objective is to provide the aspiring medical students a first-hand account of Indian medicine and the practice, which will be great exposure for all of them. We have a 10-day schedule where these students will visit various hospitals, medical camps in rural areas and attend lectures among other events," said Dr. Veena S Gandhi, a gynecologist from New Jersey and the chief architect of the HFRI.
On Tuesday, the students visited an Ayurveda clinic in Lalpur and Rajendra Institute of Medical Sciences (Rims) campus interacting with patients and doctors. The students also have lectures scheduled at Rims for the next four days by senior professors.
"Some of the practices here surprised us completely. For example, I saw paramedics weren't using masks all times during their stay in the operation theatre. Also, no one uses shoe covering inside hospitals," said Nupur Dapatardar, a student of allied health science at the University of Connecticut.
Radhika Patel, a physical therapy student of St. Louis University, Chicago, said: "The most important thing is that treatment in India is way cheaper than the U.S."
Dr. Yogendra Patel, a surgeon from New York and a member of the advisory committee of HFRI, said that such visits help students get wider experience.
The group will also travel to Gola in Ramgarh district for a medical camp and will visit a resource center by Arogya foundation of India at Shikharji in Giridih district later this week.
-Sowmya Sangam