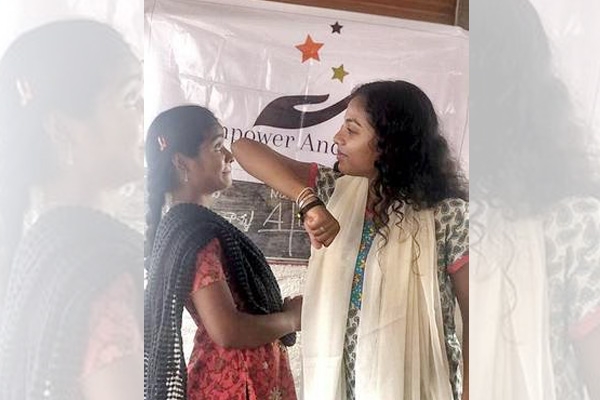 (Image source from: The Hindu)
An Indian-American teenage girl, who is on a visit to India, is making efforts to make India a safe country for girls.
The girls need not feel weak and worry when they were confronted by anti-social elements, said Spoorthi, a Class 11 student from the United States, while she visited the Asha Sadan, a rehabilitation home run by the HELP NGO, along with her mother, at Machavaram on Wednesday.
Spoorthi, also a volunteer of Empower and Excel, an NGO (Non-Governmental Organization) in the U.S. explained the girls in the home on techniques to grow strong, deal with the threats from the anti-social elements. The girls were enthusiastically involved in the training program on self-defense skills.
Sunitha, Spoorthi's mother said: Ayesha Charugulla, a non-resident Indian from Chirala founded the non-profit organization, Empower and Excel in the USA. She said that as the volunteers of the organization, they were creating awareness on sex education in girls in different schools and organizations across Andhra Pradesh, starting from the one at Asha Sadan.
She said that they were going to take up a similar programme at Kanigiri, Kondepi and other places in the district in the coming days.
Subsequently, the HELP secretary Nimmaraju Ram Mohan unveiled a book on sex education, 'Jagruti' written by Spoorthi. He said that the girls should take inspiration from her and utilize the skills when required in the future.
The India chapter head of the Empower and Excel KK Krishna Kumar, Asha Sadan in-charge Jayasri and manager M Nageswara Rao were also present in the programme.
-Sowmya sangam