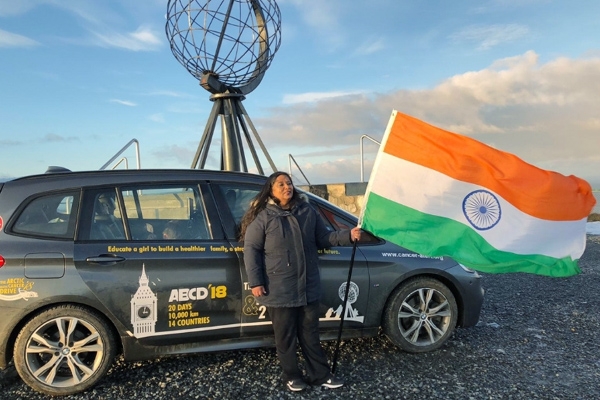 (Image source from: Mumbai Mirror)
An Indian-origin woman has made the country proud by setting a record for or completing a winter expedition in the Arctic Circle, along with her two children.
The 45-year-old Bharulata Patel Kamble accomplished this feat while undergoing treatment for cancer.
The United Kingdom-based Bharulata's children - 13-year-old Priyam and 10-year-old Aarush - also set the record for being the first Indian-origin children to have hoisted the Indian tricolor in the Arctic Circle.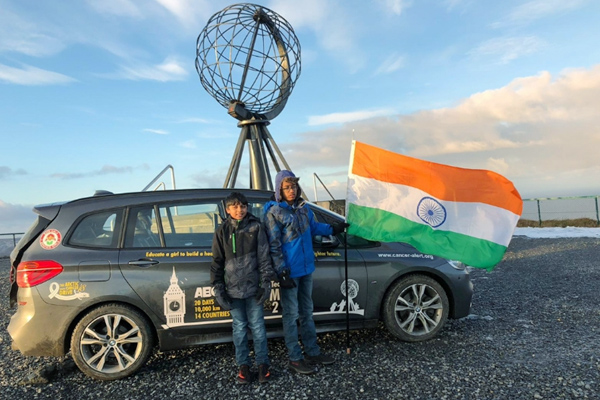 ImageSource: Mumbai Mirror
Bharulata began her expedition two months after she underwent a life-changing cancer surgery. The courageous woman drove with her kids without any backup crew or vehicle.
The journey was not easygoing as the trio faced galore challenges on their way to the Arctic Circle. Driving more than 10,000 kilometers in temperatures as low as -15 degrees Celcius in a region that only receives few hours of daylight, Bharulata proved nothing is impossible.
The trio traveled through, France, Belgium, Netherlands, Germany, Denmark, Sweden, and Finland before heading to Nordkapp in Norway. They started for the Arctic Circle from the iconic Santa Claus village Rovaniemi in Finland.
Bharulata proved to be a very skilled driver as she moved through difficult hilly roads with extreme weather conditions. On their way to the Arctic Circle, the snow and wind storm made their journey more difficult.
This was not the first time Bharulata visited Nordkapp. Earlier, she successfully drove solo through the Arctic Circle in 2016. She then traveled through 32 countries and covered a distance of 35,383 kilometers. She was also the first Indian woman to have hoisted the Indian flag in the Arctic Circle in 2016.
Love for India
Bharulata's journey was also about spreading awareness about cancer to promoting the Indian government's Beti Bachao, Beti Padhao campaign. This expedition was also likely the among the first such plastic-free expeditions.
ImageSource: www.bharulata.com
And all this for their love for India! Their aim was to hoist the Indian national flag at Nordkapp. Bharulata, along with her children reached Nordkapp, but faced the Arctic windstorm, with the winds as fast as the speed of 20 meters per second. After waiting with patience for two days for the weather to settle, the trio hoisted the Indian flag and sang the national anthem.
-Sowmya Sangam