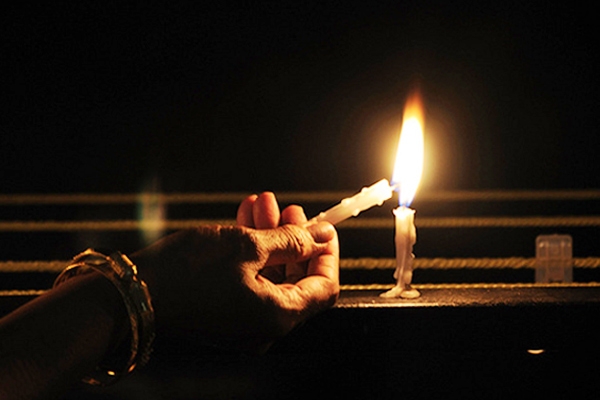 The meaning of true life is service and sacrifice. Love of God and the service of man is the secret of true life. The holy Bible quotes "Go into all the world and preach the gospel to every creature".
The Gospel Echoing Missionary Society is organizing an event named 'Selfless Service to the Kingdom Of GOD' on February 20, Saturday at the Grace Community Church located near Dorsey Center , 1200 E Southern Avenue in Tempe.
South Asian Church Alliance (SACAP) in Phoenix is inviting all to take part in the interactive fellowship and teaching sessions, that are based on the call of GOD for the Church to a life of Selfless service.
Pastor Abraham David John,  from World Christian Fellowship, London will preach the interactive fellowship and teaching sessions during the program.
According to the organizers of the event, the admission to the program is free of cost. They will also provide the facility of child care and lunch & snacks.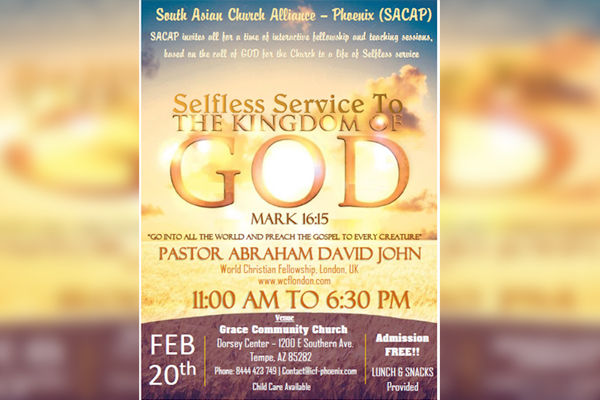 Event Details
Event Name: Selfless Service to the Kingdom Of GOD
Event Organizer: Gospel Echoing Missionary Society in Tempe
Venue: Grace Community Church
Date & Time: Saturday, 20 Feb 2016, 11:00 AM
Contact: Pradeep Walter
Email: This email address is being protected from spambots. You need JavaScript enabled to view it.
Phone: 480-842-1293
Event contact:    
Email: This email address is being protected from spambots. You need JavaScript enabled to view it.
Phone: 8444 423 749
Nandini