Swami Shreekalp organizes 'Divine Harmony' programs across the United States. The event, compromised of spiritual activities, will help you to establish a connection with your soul and facilitate a smooth flow of energy within you.
The Divine Harmony is required for blissful life. As it will introduce you to the truth of your life. The event is all about simple and basic aspects of life. So Arizonians come and enhance the experience love, happiness and knowledge.
The event will be conducted at Mosaic Apartments-Resident Center 7007 E Gold Dust Ave, Scottsdale, AZ 85253, on May 202th 11:00 AM on wards.
"Love is Truth,
Happiness is in Purity, and
Knowledge with Consciousness.
Three qualities that identify a true
human Life."
- Swami Shreekalp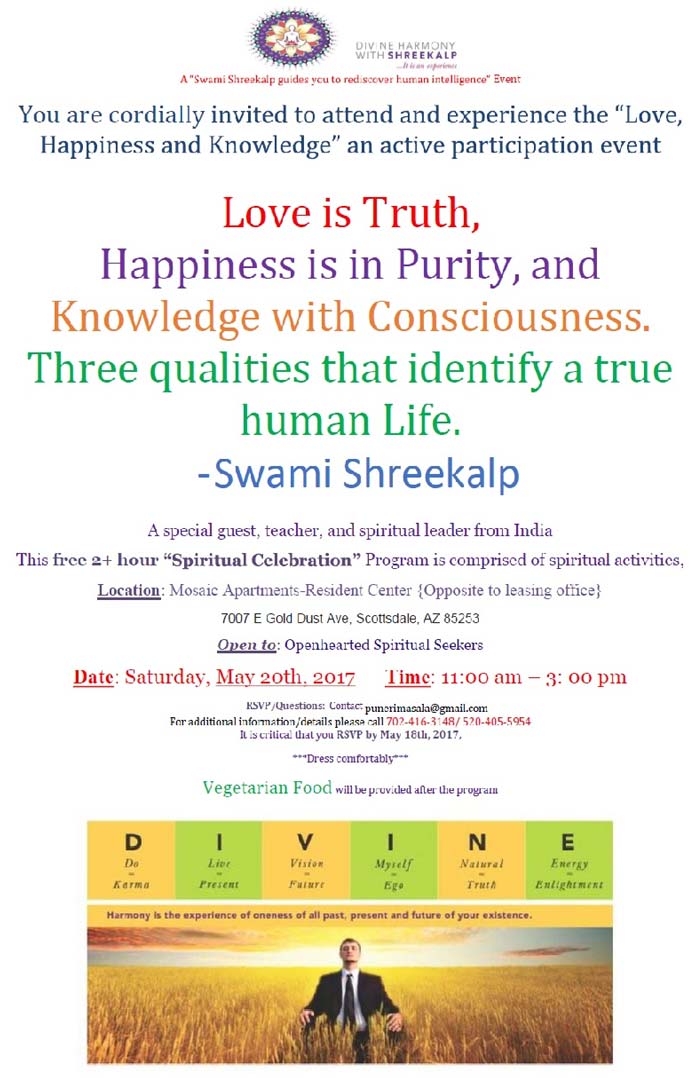 Event Details:
Name: Love, Happiness and Knowledge - Event with SHREEKALP
Venue: Mosaic Apartments-Resident Center 7007 E Gold Dust Ave, Scottsdale, AZ 85253
Organizers: Divine Harmony With Shreekalp
Date & Time:Saturday, May 20, 2017, 11:00 AM
Phone Number:(702) 416-3148
Email:This email address is being protected from spambots. You need JavaScript enabled to view it.
AMandeep