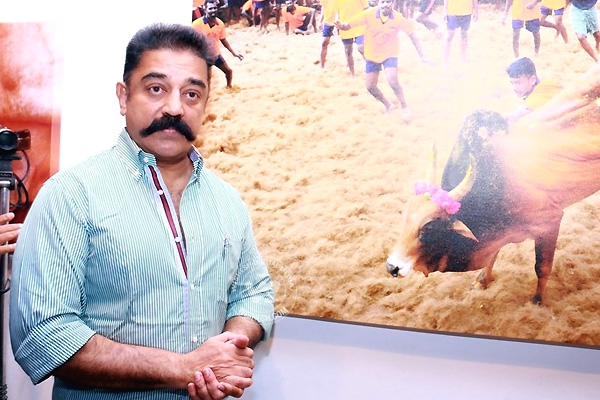 (Image source from: Kamal Haasan inaugurates photo exhibition of Jallikattu-Veera Vilayattu})
Actor Kamal Hassan has inaugurated the photo exhibition of Jallikattu-Veera Vilayattu at Lalit Kala Academy in Chennai. Kamal has been vocal about restarting the 'tradition'. He reportedly said that it must not be confused with bull-fighting in Spain.
The photo-exhibition on Jallikattu is by a photo journalist Suresh Jayaprakash, attached to Malayalam Manorama, at Lalit Kala Akademi on Monday. Bulls were treated like a God and as a part of the family in Tamil Nadu. The actor reportedly said in Spain that animals would be hurt in bull-fighting and would die.
Kamal spoke about the 60 photographs on display named 'Veera Vilayattu'. He said that those photographs showcased thousands of years of tradition.
According to Suresh, lensman, the popular event was being covered by him for past 15 years. He said, "I went to Alanganallur in 1998 and have gone there every year. It is an event that reminds us of the rich history and tradition of the south."
Adding that he would favor restarting the event, Mr.Suresh said, "In the last 15 years, I have honestly not seen a bull being mistreated. Contrary to that, bulls are treated so well."
- Sumana