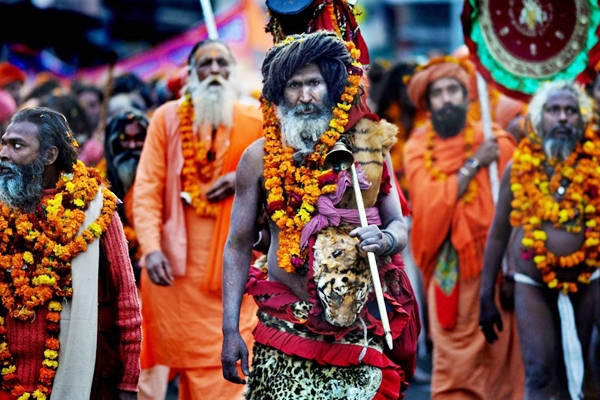 Dashar Maha Kumbh is being organized on the confluence of sacred rivers Sindh and Vitasta in the district of Ganderbal , on June 14th in Kashmir. All the Kashmiri Pandits were expected to participate in this festival. In the month of  Ramadan, the abode of India witnesses a grand and historic event of Kashmiri Hindus. Dashar, the religious Kumbh of the community took place after 75 years on Tuesday, at Shadipora.
The event comes at the middle of the controversy on settlement of Kashmiri Pandits in the valley. Many outside the valley is advocating separate townships or Pandits and this idea has faced a lot of opposition within the valley. Several organization told, that Kashmiri Pandits should settle down in their own areas. The controversies are made to ensure division for all the devotees come to this Kumbh.Kashmiri Pandit Maharaj Krishan Bhat told, "Why is the government talking about separate colonies? We don't need this. This Mela has taken place after 75 years. Muslims are shoulder to shoulder with us here. They are giving us flowers, they are helping us cross this river on their boats. They are doing all this while fasting. We appeal to everyone to end the hate"
Farooq Ahamed has been fasting for the whole day but he has not stopped himself from helping people to cross the river. He has ferried the pilgrims to the sacred tree. The sacred tree is a Chinar that stands at the point, where the two rivers meet which is known as Prayag. Ahmed said,  "Many people are even staying in our houses for last few days. These Pandits should come back,"
The help that local people have offered, finds a clear appreciation among the devotees. Param, one of the devotees remarked, "This has come after 75 years and has great importance for us. We are very thankful to the local people here. They are fasting themselves and still helping us,"
Thousands of people have united here, which seems to establish a communal harmony in the valley.
Also Read: Embrace your soul at Simhastha or Kumbh Mela 2016 at Ujjain
By Prakriti Neogi