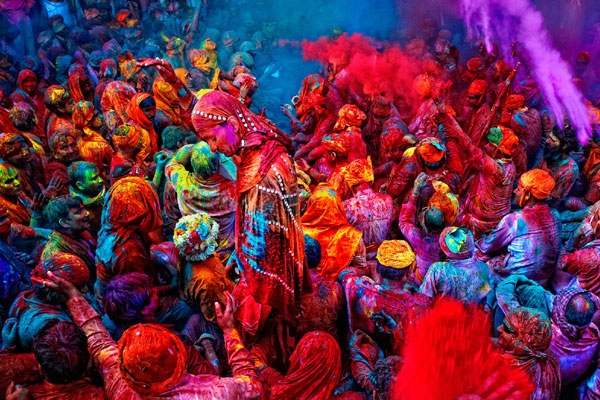 (Image source from: lingbe.com)
India is gearing up to celebrate the vibrant festival colors 'Holi' this year on March 20 and 21. The holy day signifies the triumph of good over evil.
To revel the festival of Gujiyas, bhang, colors, and music with their loved ones, people from far and near travel to their hometowns.
From dates to history to significance, here is all you need to know about Holi 2019.
Holi 2019 Dates
Holi or Dhulandi in 2019 will be celebrated on 21 March.
Holika Dahan or Choti Holi, as it is popularly known as in some parts of the country, will be celebrated on 20 March.
Holi is celebrated on the last full moon of the Hindu lunar month Phalguna. The festival is also known to be the harbinger of spring, fertility, and vitality.
Why Is Holi Celebrated?
According to mythology, Holi signifies the victory of good over evil and is tied to the story of Prince Prahlad and Holika.
Prahlad was a devotee of Lord Vishnu. This enraged his father, a powerful king named Hiranyakashyap, who wanted to be worshiped instead. Incensed by the supposed impertinence of his son, his father conspired to get him killed through fire. It was decided that Prahlad would sit on the lap of Holika - the king's sister. Holika, who was believed to be a demon, was immune against the flames of fire.
However, to everyone's surprise, once the pyre was lit, Prahlad started chanting Lord Vishnu's name and came out unscathed as opposed to Holika who was consumed by the flames.
Since then, Holika Dahan is celebrated across the country wherein people prepare a pyre of wood that is burnt to signify victory of good over evil. There is a myriad of beliefs associated with the festival but the story of Prahlad and Holika remains the most popular among all.
Holika Dahan 2019 Timing
Timing 2019 - 20:57 to 24:28+ hours
Duration - 3 Hour 30 Minutes
Bhadra Punchha - 17:23 to 18:24 hours
Bhadra Mukha - 18:24 to 20:07 hours
Rangwali Holi on 21 March
Purnima Tithi Begins -10:44 on 20 March
Purnima Tithi Ends - 07:12 on 21 March
Bhang on Holi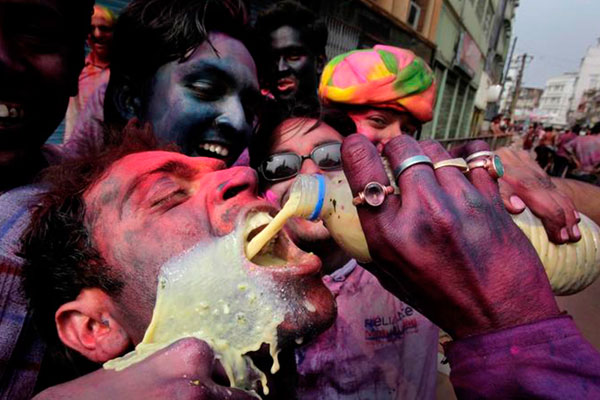 (Image source from: Storypick)
Bhang is basically cannabis, used in foods and drinks in India during the festival of colors-Holi. The most famous version of bhang that can be found during the festival is 'Thandai'.
Bhang is synonymous with Holi to such an extent that bhang drinks have now become a ceremonious Holi beverage.
Bhang is known to elevate the spirit of the masses celebrating the vibrant festival of Holi by getting rid of reservations and restrictions. Thandai, pakoda, and gujia are savored throughout the day with rounds of bhang, from time to time.
By Sowmya Sangam