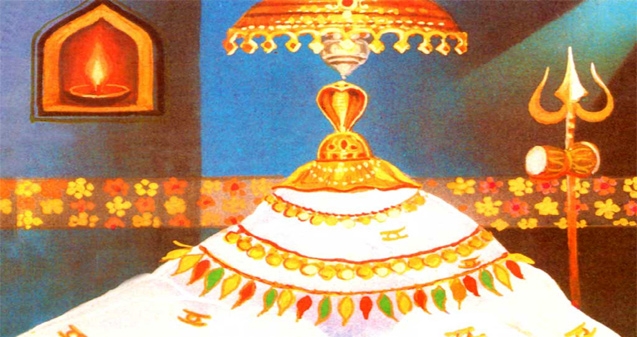 (Image source from: DELUSION OF CULTURE)
Kedara vratam was performed by Parvathi to become a part of Lord Shiva (Arthanareeswara) originally. It is one such penance which grants all one's wishes. This vratam can be performed by people of all varnas, equally. Anyone who performed this vratam 21 times will attain all possible worldly riches and attain deliverance at the end.
Vratam process:
On the day of Bhadrapada suklam, with a clean mind, one must wear 21 layered threads on hand, do pooja and do fasting on that day. The next day, one must provide meals to a Brahmin. From that day, one performs the pooja for 21 days to Kedareswara, till amavasa. For the pooja, on a heap of rice, place a pitcher, wind around it 21 repeats of thread, cover it with silk clothes, place precious gems, gold (as much as one can afford) – then do pooja to this with sandal wood and akshata. Invite 21 Brahmins; provide them with water and other requirements to clean and to invoke Lord Kedareswara in the Kalash. Pooja has to be performed to this Kalash with sandalwood paste, myrrh, musk, kumkum and flowers, akshata, tamboolams, clothes and offering incense and deepam. Naivedyam with 21 varities of items along with coconuts have to be offered, along with tamboolam, accompanied by singing hymns. One has to satisfy the Brahmins with dakshina. If one performs the vratam in this manner, Lord Kedareswara will be pleased and will bless one with their desires.