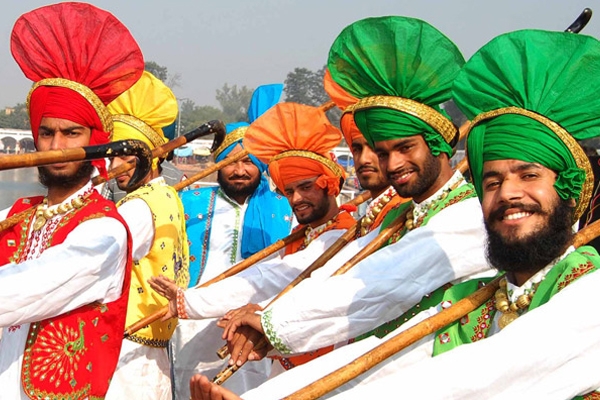 Vaisakhi or Baisakhi is an ancient festival of Hindus, marking the Solar New Year and also celebrating the spring harvest. It is one of the three Hindu festivals, which was chosen by the third Guru Amar Das to be celebrated, including Maha Shivaratri and Diwali.
Vaisakhi is traditionally celebrated on 13 or 14 April, every year. The festival is important to both Sikhs and Hindus. The festival coincides with other new year festivals celebrated on the first day of Vaisakh in other regions of the India such as Pohela Boishakh in West Bengal, Bohag Bihu in Assam, Vishu in Kerala and Puthandu in Tamil Nadu.
The Sikh Vaisakhi festival is celebrated in remembrance of the birth of Sikh order, which started after the ninth Guru Tegh Bahadur was beheaded under the orders of the Mughal Emperor Aurangzeb, because he stood up for freedom of religious practice and refused to convert to Islam.
The Guru's martyrdom triggered the coronation of the tenth and last Guru of Sikhism, and the formation of the sant-sipahi group of Khalsa, both on the Vaisakhi day
The Vaisakhi festival started in the year 1699, as on this day the 10th Guru of the Sikh Guru Gobind Singh laid down the foundation of the Panth Khalsa that is the Order of the Pure Ones, by baptizing Sikh warriors to defend religious freedoms.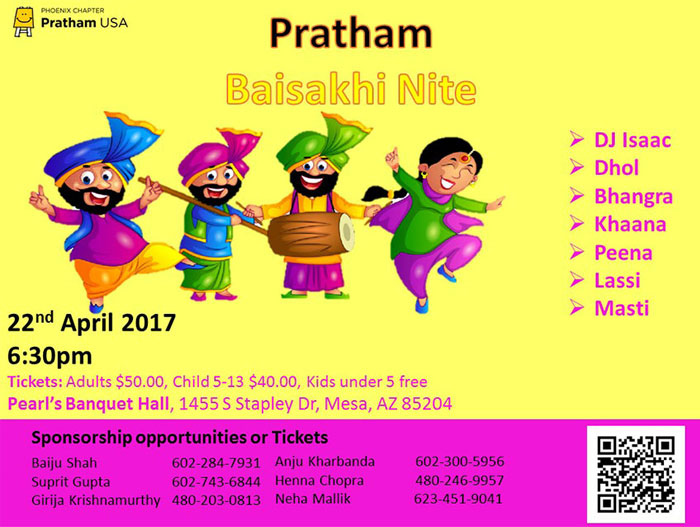 Pratham "Baishaki Nite":
Pratham is organizing "Baishaki Nite" a family-friendly evening of Indian music, dance and food in Arizona on 22nd April 6:30 p.m. onwards.
Event Location:
Pearl's Banquet Hall, 1455 S Stapley Drive, Mesa, AZ 85204.
AMandeep