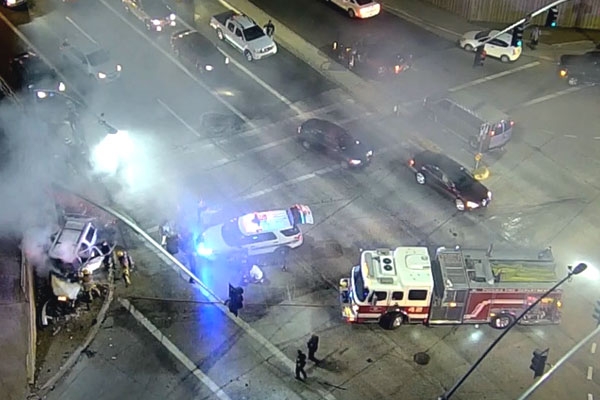 (Image source from: Abc15.com)
3 people have died and 6 seriously injured in a major car crash at I-17 on Green way road in Phoenix on Monday night. Phoenix police officer Sgt.Vince Lewis told the press that the DPS trooper spotted a stolen SUV heading the northbound lanes of the freeway near Dunlap avenue trying not to yield to the DPS vehicle.
Exiting the freeway lane at Green way road the vehicle rammed into an other SUV resulting in flames. Phoenix fire captain Jake van said that there were seven people seen in the stolen SUV seriously injured including two 13 and 14 year old girls, 16 year old boy along with three other women and a man. Two people were dead on the spot being caught in the flames and another died at the hospital.
Phoenix fire crew responded immediately after the incident putting off flames at the accident site. The driver of the stolen car is a teen aged 14 who was pronounced dead at the spot near the accident site. Earlier DPS notified Phoenix police of a stolen car (SUV) that was heading to north on I-17 around 08:00 pm in the evening. The driver of the second SUV that was hit is safe with no major injuries who refused to be taken to the hospital by the police. The police were unclear about the relationship among the seven occupants in the stolen SUV but the driver aged 14 has the same last name as somebody else in the SUV. The accident led to the closure of I-17 on Green way roads. The Phoenix police said that this is an ongoing investigation and press will be informed further details.
For more updates related stay tuned to AZwishesh.
By Yashwanth