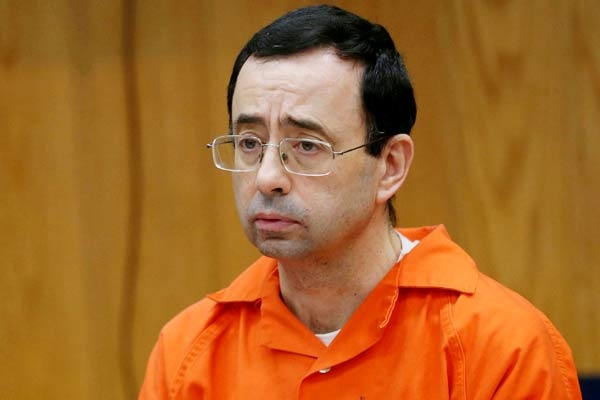 (Image source from: www.independent.co.uk)
Tucson:
The defamed Olympics Doctor from MI was sent to Tucson Federal prison which runs specialized program for sex-offenders. Larry Nassar was transferred to a high security federal prison in Tucson according to Federal Prison Database. This database also released the release date for Nassar as March 23 2069. And if he lives over the term he would be subsequently transferred to MI to serve consecutive 40 years for abusing women sexually. Nassar is currently in the federal prison, located at 9300 S. Wilmot Road
Nassar also faces 175 years in MI state prison if ever gets released from federal prison. The Tucson prison has around 1500 inmates and also includes an adjacent minimum security satellite camp. This is one of the few prisons which includes a specialized program for sex-offenders. One of the famous inmate here is Brian Mitchell who kidnapped Elizabeth Smart in 2002 and help her captive for years.
This same prison also had Randy Duke Cunningham the congressman who served 7 years for taking bribe. Another inmate Mayor Philip Geordano from Waterbuy is also currently serving his 37 years sentence for forcing minors to perform sexual activities.
Nassar was accused by over 260 women and girls, for inappropriate sexual moves while performing medical procedures on them. He pleaded guilty in a Federal court for possessing child pornography and also sharing it. His 1st degree criminal sexual conduct pleaded him guilty in Ingham and Eaton courts to the tune of 10 counts.
Larry Nassar's trial has upended the otherwise silent gymnastics world. Michigan State university and Elite Sports Associations are shaken by his serial sexual abuse. This has also outraged a national and international debate on the condition of Women and Girl playing the sport.
According to the Bureau of Prisons, "The Tucson Prison opened in 2007 and houses 1,536 inmates -- 1,387 in the main prison and 149 at a minimum-security satellite camp" This prison is one of the 9 in federal system which offers SOMP or the Sex Offender Management Program. It offers the "non-residential treatment," consisting of out patient groups meeting 2-3 times a week for several hours. According to the program description, "Participants learn basic skills and concepts to help them understand their past offenses and to reduce risk of future offending. This treatment is offered to offenders evaluated to have low to moderate risk of reoffending"
By Minu Manisha