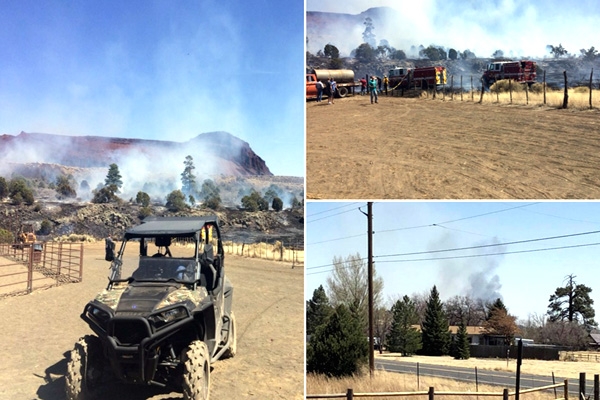 (Image source from: Wsmv.com)
Dozens of acres burnt down as a fast-moving brush fire erupted and on Sunday forced people from a community from their homes east of Flagstaff.
Copley Fire had burned 86 acres the Arizona State Forestry said the.
The agency said, officials with the Coconino County Sheriff's Office and Coconino County Emergency Management have evacuated the community of Winona. The firefighters said that about 75 people were at Summit Fire Station until they were allowed to return home.
They were permitted back in their homes around 8:30 p.m.
Until then, Townsend Winona was closed in both directions.
The fire began in a home just before 12:30 p.m. and then turned into a brush fire, said Tiffany Davila with the Arizona Department of Forestry and Fire Management. She told the house was a total loss.
Authorities mentioned it may have been a case of irresponsible burning at the home and have a person in custody.
There were two other houses which are burned, Davila said.
Crews used a bulldozer to help curtail the fire and to drop water on the flames, Department of Public Safety helicopter was used to pour water from the air.
Authorities told earlier that crews had pushed the increasing blaze back against the cinder hills in the area and the possibilities for quick containment were looking good.
Authorities told the report of the wildfire was first in the area of Copley Road east of Leupp Road.
On the scene are nine crews from Summit Fire, Flagstaff Fire and the U.S. Forest Service fire department.
Nearby housing developments to Winona are on pre-evacuation.
The brush fire could be a small example and preview of a busy wildfire season in Arizona. More than twice as many acres have been so far in the state this year as compared to the same time last year, the Arizona Department of Forestry and Fire Management said.
The drought in the state has been getting worse, said the National Weather Service. Weather models show that there will be 30 percent less rain in the upcoming months as compared to the normal rainfall. The agency also told the northern part of the state might not witness rain until monsoon season, which starts from the June 15.
- By Kavita R