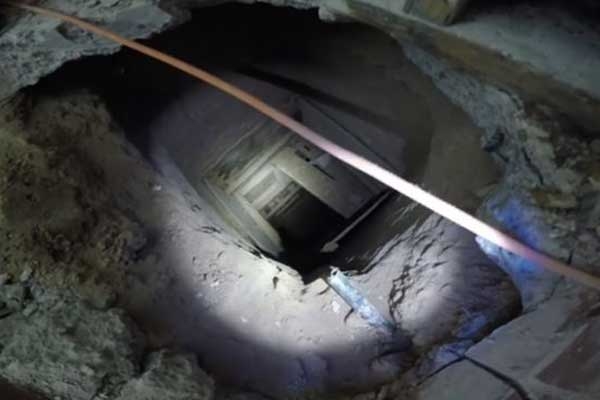 (Image source from: BBC.com)
At the back of a former KFC (Kentucky Fried Chicken) restaurant in Arizona, police discovered a narrow tunnel that they believe was used to smuggle drugs between Mexico and the United States.

The operation was busted after a seemingly routine traffic stop on August 13, according to report by KYMA News.

When San Luis, Arizona police stopped Yuma resident Ivan Lopez, sniffer dogs reportedly flagged two toolboxes in the trailer.

Homeland security agents said the boxes contained over 168 kilograms of narcotics. The stash included 118 kilograms of methamphetamine, six grams of cocaine, three kilograms of fentanyl, 13 kilograms of white heroin, and six kilograms of brown heroin. The fentanyl alone was enough for 3 million doses, according to KYMA.

A search of Lopez's property, including the vacant building where the KFC was previously located, exposed the cross-border tunnel.
TAKE A LOOK INSIDE the possible drug tunnel between former KFC in AZ and home in Mexico: https://t.co/nNmYYMtLjc pic.twitter.com/FWxMW6gwIP

— KSLA News 12 (@KSLA) August 23, 2018

Just 8 inches in diameter and 22 feet deep, the tunnel leads nearly 600 feet toward Mexico, according to ABC. It starts in the former fast food joint's kitchen area, and terminates at a trap door at a residence in Sonora, Mexico, according to KYMA. The secret exit was concealed underneath a bed.

"Ultimately, the ownership of the tunnel goes back to the Sinaloa Cartel," said Scott Brown, the special agent in charge from Homeland Security Investigations division.

It is unclear how long the tunnel has been in use, but Lopez only bought the property in April.

Authorities believe narcotics were smuggled across and pulled up through a rope.

In 2012, another San Luis tunnel possibly run by the Sinaloa drug cartel was discovered hidden under a water tank. That tunnel was linked to an ice factory in San Luis Rio Colorado, Mexico, according to ABC.

By Sowmya Sangam