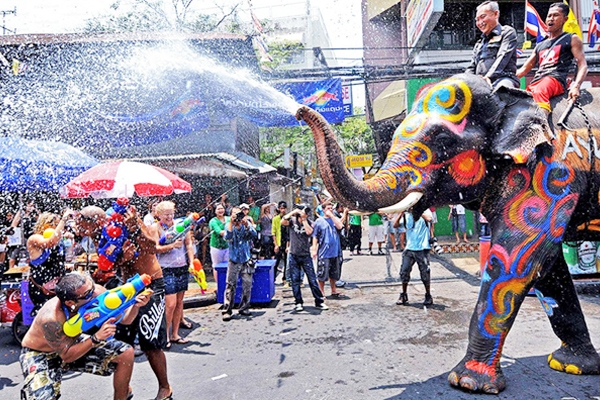 People of Thailand celebrate Holi in a different manner. Holi celebrations in India happen only for a day, where as Thailand people love to celebrate Holi for three days. Songkran is another name for Holi in Thailand, which is even celebrated by people in Thailand as New Year. Songkran is the most important festival for Thais. The first day that is 13 April is the end of the year and is called as 'Mahasongkran', 14 April i.e.  Second day is named as Wan Nao, and the last day that is 15 April is the beginning of the new year, called as 'Wan Thaloeng Sok'.
The word Songkran is extracted from Sanskrit word Sankranthi, indicating the migration of sun  from one zodiac sign to other where it exposes, and it is welcoming  another new year for Thailand people. Songkran is the combination of two festivals like Holi, celebrated by Indians, and Ching Ming, celebrated by Chinese people,. Thai people follow the Chinese ritual of bathing Buddha on that special day and sprinkle scented water on elders, as a  mark of showing respect.
People of Thailand clean their homes and temples and give offerings to the monks. Sprinkling of water is considered as a Symbolic mark of cleansing of body, spirit and mind. Thais trust that scented water wipes their bad luck. Songkran is celebrated during hot weather conditions, and that is the main reason to consider water as a welcoming relief.
During the Songkran Festival, Thai people follow three rules
1. People should not lie.
2. They should not hurt animals.
3. And finally they have to work and earn little money and avoid spending.
To enjoy the hot condition, celebrate Holi in Thailand and drench yourself and get splashed.
- Divya