Live BigData training batch for IT Tech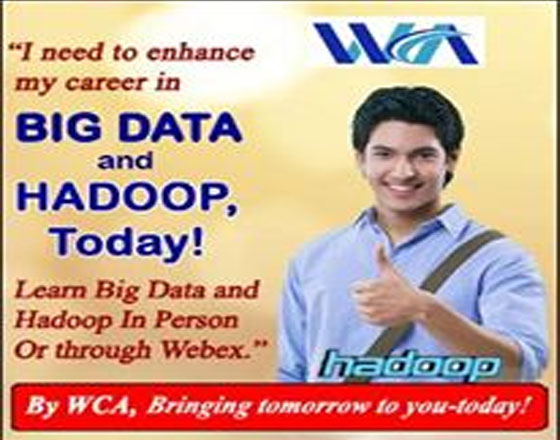 Important Safety Tips :
View properties in person, and always take someone with you. Never send or wire money to landlords. Classifieds does not offer any transaction or payment services. Stay safe - read our safety tips.
Contact PersonWindsor Consulting Associates LLC
Contact Number(860) 839-4586
Contact Email[email protected]
Description
Live BigData training batch for IT Tech Cost $300(Reduced Cost). 3rd batch in this year is starting in 3 weeks. Enrollment is started, visit our website for more details. This will be a 3 weekend(only on Saturday's & Sunday's) training lead by a Cloudera certified senior developer, working in a largest IT firm. Do you want to be Data scientist? Or Data Analyst ? Or Hadoop developer ? Then Learn Hadoop (HDFS/YARN/MapReduce/PIG/HIVE/Other Ecosystem in Hadoop/SPARK) through our technical training course. The course will take you to full length in providing you the power of Big Data. Big Data can help understand how others perceive your products in the market. There are several job opportunities, Giants such as Google, Yahoo, Apple, eBay, Facebook, ORACLE, IBM, Microsoft, Linkedin and Amazon are looking for Hadoop professionals !!! Email: [email protected] Or call us @860 839 4586(preferred for training queries) Or 480-823-3203 (preferred for IT job placements) for more questions. Hadoop Developers on average earn 30% more than other jobs in IT.

Related Ads
6 Months Free Web Hosting
Free Linux based hosting with expert tech support. Guaranteed 30 minutes first response time. For more details, feel fr