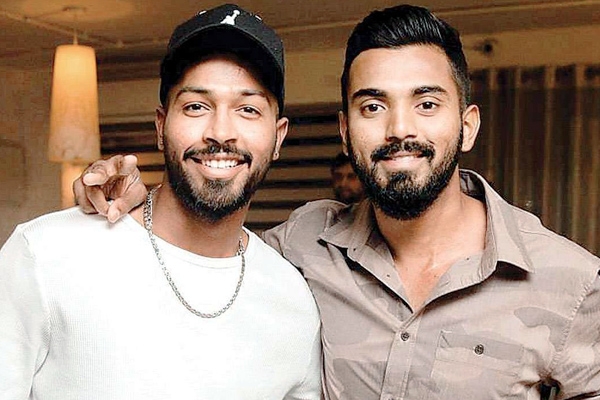 (Image source from: Dnaindia.com)
Indian cricketers KL Rahul and Hardik Pandya have been suspended by the Board of Control for Cricket in India in relation to Hardik's problematic comments on women on celebrity talk show Koffee With Karan. 
The duo had appeared on an episode of the show which aired on January 6, and have drawn public ire after Hardik made sexist, misogynistic and racist comments on the show. While KL Rahul does not seem to have made such statements himself on the episode, he did not counter Hardik either.
The duo has been omitted from the line-up for the opening One Day International in Sydney, Australia. This development comes even as an inquiry into their comments is pending. BCCI's Committee of Administrators (CoA) had recommended a two-ODI match ban for the players earlier and referred the matter to BCCI's legal cell.
However, as the legal cell refused to term their problematic comments and behavior on the show as a violation of the code of conduct, CoA member Diana Edulji recommended that they are suspended pending further investigation into the issue.
"It is imperative that players be put under suspension till the further course of action is decided for this misconduct as was done in case of (BCCI) CEO (Rahul Johri) when he was sent on leave on sexual harassment matter," Diana responded to the legal cell, reports PTI.
Hardik and Rahul were not only criticized heavily on social media but also earned the disapproval of their captain Virat Kohli, who on Friday, denounced the statements made by them on Koffee With Karan, which is hosted by filmmaker-producer Karan Johar.
Terming the comments as "inappropriate", the 30-year-old skipper said the belief in the dressing room is completely different from the individual comments of the two young players. "We as the Indian cricket team and responsible cricketers do not support such views," Kohli said ahead of the first ODI against Australia at the Sydney Cricket Ground (SCG). "The two concerned players have realized what has gone wrong and they have understood the magnitude of what has happened," he said.
Hardik had boasted about seeing multiple women on Koffee With Karan and his parent's pride in the same while being degrading towards women. He also made culturally appropriative comments like he was from "Black culture" which is why he liked to concentrate on how women moved in nightclubs rather than asking their names.
Hardik has since issued a statement on Twitter, where he said, "After reflecting on my comments on Koffee with Karan, I would like to apologize to everyone concerned who I may have hurt in any way. Honestly, I got a bit carried away with the nature of the show. In no way did I mean to disrespect or hurt anyone's sentiments. Respect." However, neither social media users nor the BCCI thought that his 'apology' was enough. 
-Sowmya Sangam