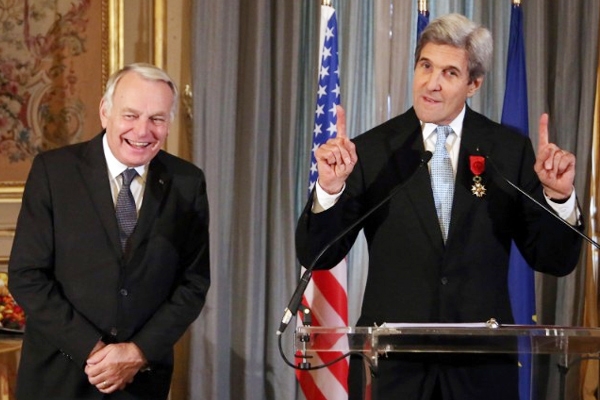 US Secretary of State John Kerry has been given France's highest honour, the Legion d'Honneur, with his French counterpart at a ceremony in Paris. The French minister called him "the most French of American officials".
French Foreign Minister Jean-Marc Ayrault recalled Kerry's family connections with France and praised his diplomatic endeavors during presenting Kerry with the insignia of Grand Officer of the Legion of Honor.
Ayrault said that, the top US diplomat was a "tireless champion of peace". "Francophone, Francophile, you are certainly the most French of American officials."
Kerry said he was "humbled" to accept the award and that it reflected the special relationship between France and the United States, their long history and shared values.
Kerry, whose mother was born in France, said that, "We have a lot of work to do in that regard because there are dangerous currents of authoritarian populism, and no part of the world remembers better what happens when difficult economies mix with sectarian exploitation, with nationalism and fear."
"We really need to be careful going forward and think hard about the choices that we face. We are pursuing diplomacy because the world needs the values that have been espoused by the United States and France since our inception," he said.
Also Read: Trump says H1B visa holders can not replace American workers!
Nandini