As the sun begins its journey northward and as the entire country breaks into revelry and jubilation, it's time to snack into some traditional delicacies of the festivity. One such star dish of Makara Sankranti is Dalia Pongal, a tasty, nutritious, South Indian snack prepared with wheat rava and green gram. Follow the recipe and treat your family to something special on this special day. For the recipe, read on.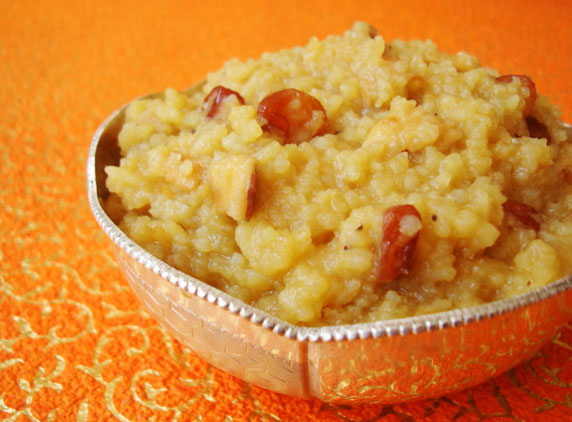 Ingredients
1 cup wheat rava
1/2 cup split green gram dal
 1 tsp pepper corns
 1 tbsp cumin seeds
 1 tbsp cashew nuts
 2 tbsp ghee
 1 tsp ginger (chopped finely)
 1/4 tsp of asafoetida (heeng)
 Turmeric powder
 Curry leaves (handful)
Salt to taste
Instructions
Wash and clean wheat rava and dal and pressure cook in separate vessels in 3 cups and 1 cup water each.
While cooking dal , add a dollop of ghee, pinch of turmeric powder and asafetida.
Heat a wok, add 1 tbsp ghee and sauté the cashews till light brown.
In a separate pan, saute curry leves, cumin seeds, peppercorns and ginger.
Add the cooked wheat rava, dal and salt and mix well.
Top off with cashews and rest of the ghee. Serve hot with chutney.