Indian-American student recites painful poetry of replacement of Tamil with English at White House!
September 10, 2016 12:47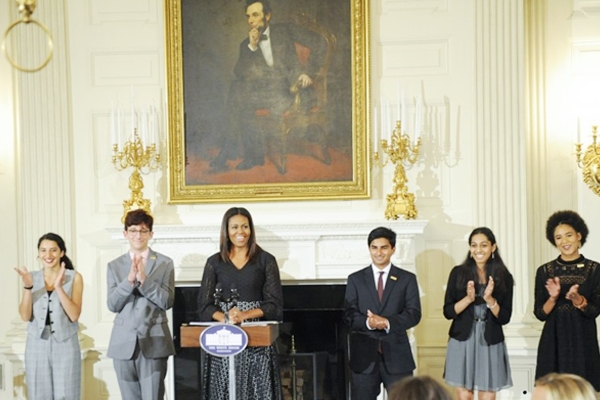 The sizeable audience at the White House was attracted towards an Indian-American girl Maya Eashwaran when she recited a poem about her experience as an immigrant and how it was painful to replace her mother tongue Tamil with English.
The event was also attended by the First Lady Michelle Obama, who felicitated Maya Eashwaran and four others, including another Indian-American, Gopal Raman, as part of the prestigious National Student Poets in recognition of their poetry skills.
Maya, 17, concluded, reading her poetry, "I have lost more than I have ever lost in sixteen years. I have started shedding ethnicity like hair. Mother, I fear I'll go bald." "Ma, I haven't spoken (Tamil) in three years," she recited, amidst applause from the audience.
"Maya - where's Maya? You put it best. These are your words, I'm told: "On the stage, there is no way to leave unnoticed. Did you say that?" the First Lady asked.
Maya, born in the US to Tamil parents, said that, "My family is Tamil. I was born here. I write a lot of my poems based on my culture, my heritage."  "The poem that I actually read at the White House is based on experience of losing my mother tongue and kind of replacing it with another, which is very painful thing to imagine to go through," she said.
Gopal, 17, the other Indian-American budding poet who received national attention, lives in Dallas, said that, "It (love with poetry) started in seventh grade. I had a really great English teacher. He really pushed me in writing in more creative way. I choose poetry as my avenue of writing."  "I am super honoured to meet the First Lady," he said.
"I also want to plan for pre-med. My dream job right now is some sort of medical doctor" he added.
"This is the last time that we're going to have the pleasure of welcoming a class of National Student Poets to the White House, at least under this administration. So I'm feeling a little melancholy here, because this has truly been an honor and a privilege and a joy," the First Lady said.
She said when they came here, they wanted to use "this incredible platform of the White House to inspire young people to dream really big for themselves, to think about what their lives could look like beyond what their everyday existence is like."
Also Read: MEA launches registration module for Indian students abroad!
Nandini