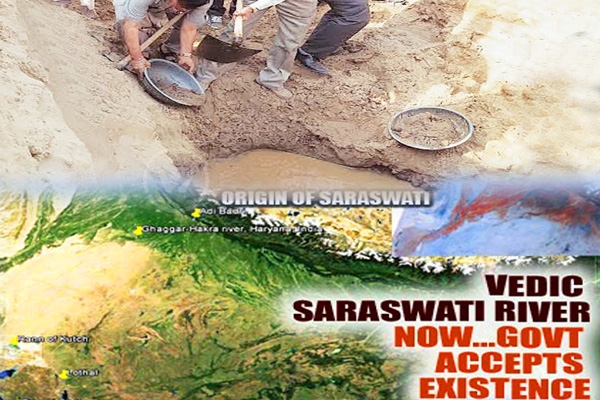 (Image source from: Holy Saraswati river sprouts to life after 4)
The Saraswati River is one of the main rivers mentioned in the Rig Veda and later in Vedic and post-Vedic texts. It plays an important role in Hinduism. The Nadi Stuti hymn in the Rigveda mentions the Saraswati river between the Yamuna in the east and the Sutlej in the west and later Vedic texts like Tandya and Jaiminiya Brahmanas as well as the Mahabharata mention that the Sarasvati dried up in a desert. The Saraswati river was revered and considered important for Hindus because it is believed that it was on its banks in the Vedic state of Brahmavarta, that Vedic Sanskriti saw the light, and important Vedic scriptures like Manusmriti, the initial part of the Rigveda and several Upanishads were composed by Vedic seers.
Efforts to unravel the mystery behind the ancient Saraswati river, which has its references in 'Vedic' texts got a major breakthrough when a team of geologists and scientists found traces of the extinct river. The team last month began excavations at a place, just five kilometres away from Yamuna Nagar's Adi Badri in Haryana, in order to trace the source and route of the river, which was extinct till now. After digging just seven to eight feet deep, a stream of water came gushing out of the Earth at a place called Mugalwali near Adi Badri, which was once considered to be the holy Saraswati river's course.
Though serious efforts had been made in the past by geologists and scientific community, both during British period as well as in independent India, the river remained a mystery, so much so that its mention in the ancient texts has invariably been termed as mythological reference.
Hindus, while taking bath used to recite the sloka,
Gange cha Yamune chaiva Godavari Saraswati
Narmade Sindhu Kaveri jalesmin sannidhim kuru
which means, In this water, I invoke the presence of holy waters from the rivers Ganga, Yamuna, Godavari, Saraswati, Narmada, Sindhu and Kaveri. Hindus consider these rivers are holy and taking bath in these rivers will wash out all the sins.
By Premji