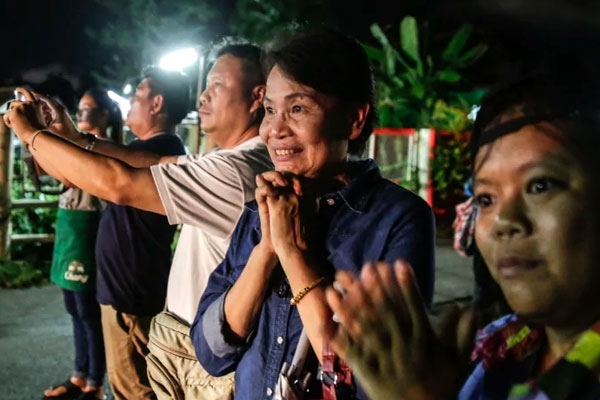 (Image source from: CBC.ca)
Four of the 12 Thai lads were freed from a waterlogged cave on July 8 as divers launched an audacious and risky task to free the children and their soccer instructor who have been stuck underground for more than two weeks, officials said.
Five members of Thailand's leading navy SEAL unit and thirteen overseas divers directed the boys to safety through narrow, submerged passageways that claimed the lifespan of a prior Thai navy diver on July 6.
As night fell, the process to rescue the remaining eight boys — some as young as 11 and weak swimmers — and their coach was called off until the morning of July 9.
"Today we managed to rescue and send back four children to Chiang Rai Prachanukrua Hospital safely," the head of the rescue operation, Narongsak Osottanakorn, said at a news conference. The rescue crews required around 10 hours to prepare for their subsequent action, involving about 90 divers in whole, 50 of them from overseas countries, he said.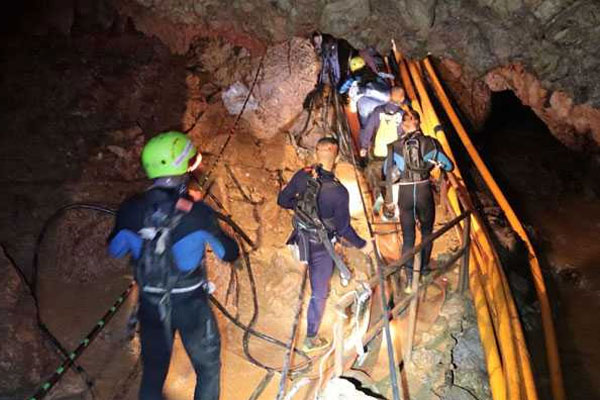 (Image source from: www.ndtv.com)
An airliner flew the four boys to the neighboring city of Chiang Rai, where they were taken by ambulance to the infirmary.
"Today is D-Day," Narongsak had earlier told reporters.
Spurts of monsoon rain saturated the Tham Luang Cave area on July 8 and storms were predicted in the approaching weeks, increasing the perils in what has been named a "war with water and time" to save the team.
The schoolboys went absent with their 25-year-old coach after soccer rehearsal on June 23, setting out on an adventure to explore the cave complex near the border with Myanmar and celebrate a boy's birthday.
Narongsak said, and had succeeded to drain the water level in the cave significantly, but wanted to move fast. "If we wait and the rain comes in the next few days we will be tired again from pumping and our readiness would drop. If that's the case, then we have to reassess the situation," he said.
Thirteen medical teams were stationed outside the cave, each with its own helicopter and ambulance. one for each of 12 boys and their coach.
United States President Donald Trump said the United States was working "very closely" with the Thai government to free the boys. "Very brave and talented people!" he tweeted.
By Sowmya Sangam