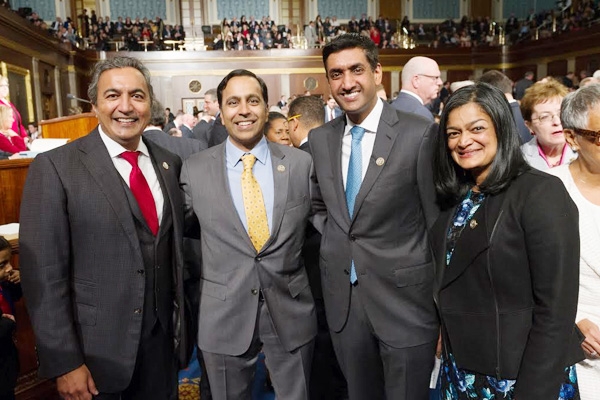 (Image source from: /www.indiaamericatoday.com)
All the four newly-elected and re-elected members of the United States Congress were sworn in as members of the 116th Congress on Thursday.
The swear-in ceremony took place during an observance held on the U.S. House of Representatives and Senate floors at the U.S. Capitol Building in Washington, D.C.
The four members are Representatives Ami Bera and Ro Khanna of California, Rep. Pramila Jayapal of Washington, and Rep. Raja Krishnamoorthi of Illinois.
The day as well saw Democrat Nancy Pelosi taking over the gavel of the House speaker for the second time in 12 years. She is the only woman to serve as the speaker.
It was over again a proud moment for the Indian American community, with all the four incumbents - all Democrats - of the 114th Congress returning to serve another term.
Krishnamoorthi, who was re-elected from Illinois's 8th congressional district last November, arrived with his whole family, including his wife, children, and parents, for the event.
A visibly emotional and proud, Krishnamoorthi took the oath on Gita and later had his wife Priya presenting him with his new member pin.
He tweeted a family picture, soon after the ceremony.
Khanna, who represents the Silicon Valley, was sworn in on a bicentennial edition of the Constitution. Jayapal, the first Indian American woman in the House, was accompanied by her mother.
The 116th Congress is the most diverse ever with a record number of women serving in it. Among the recently sworn in members were the first two female Muslim members of the U.S. Congress.
-Sowmya Sangam