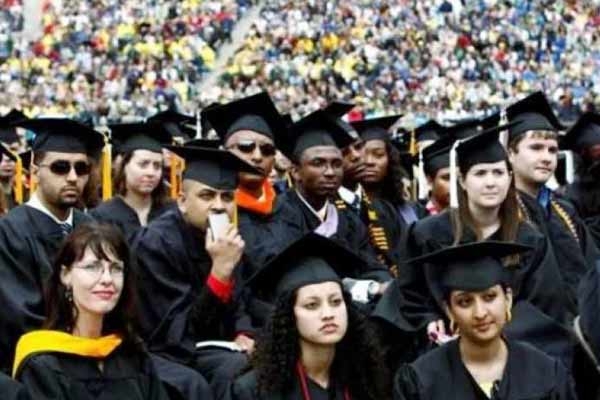 (Image source from: zeebiz.com)
Indian students who have breached immigration laws in the United States have been advised by attorneys to act in accordance and cooperate with law enforcing authorities.
According to an August 9 memo issued by the U.S. Citizenship and Immigration Services (USCIS), the students staying illegally in the U.S. after February 5 would have to face deportation. The students have also been asked to exercise their right to speak to an immigration attorney who could handle the issue on their behalf.
If those overstaying or misusing their visa leave the U.S. by the stipulated time, they will be permitted to return following due procedure of law. However, if they are caught staying illegally, they will face a three-year ban and action under the law.
Taking into consideration that the eight students who were arrested by the U.S. immigration authorities hail from Telangana and Andhra Pradesh, the American Telugu Association (ATA) and Telangana American Telugu Association (TATA) have taken the initiative to provide advice from attorneys on how to face the situation.
TATA organized a 'free immigration teleconference' with attorneys Rahul V Reddy and Emily Neumann while the ATA has conducted a webinar with attorneys Ravi Mannan, Hemant Ramachandran, and Michael F Sofo.
During the teleconference, Emily Neumann advised students that if the law enforcing authorities were to approach them, they should voluntarily comply.
Attorney Rahul Reddy explained that not being physically present to attend classes was in violation of the stipulations for students. It is another matter that the University of Farmington, Michigan, itself did not conduct classes as it was a fake university. Moreover, the Curricular Practical Training (CPT) which is an alternative work/study must be directly related to the student's major and is therefore considered part of the student's program of study.
As soon as the news started trickling in regarding the arrests of students staying back in the U.S. illegally, representatives of ATA met the Indian Ambassador to the U.S., Harshavardhan Shingla and requested his help. The ATA also met the Consul-General of India in Atlanta, Swati Vijay Kulkarni and explained the issues and remediation efforts.
"The Ambassador and Consulate General expressed their concern for our students and are working closely with the authorities," said ATA president Parmesh Bheemreddy.
-Sowmya Sangam