Sachin: A Billion Dreams Movie Review, Rating, Story, Cast and Crew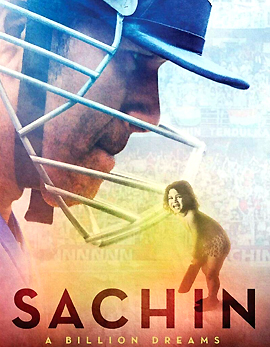 Rating:

Director:

James Erskine

Cast:

Sachin Tendulkar, Mahendra Singh Dhoni, Virender Sehwag, Mayuresh Pem

Banner:

200 NotOut Productions

Producer:

Ravi Bhagchandka, Carnival Motion Pictures

Music:

A. R. Rahman

Release Dt :

May, 26 2017
Story
Sachin: A Billion Dollar Dreams is all about the story of Sachin Ramesh Tendulkar, one of the legends of world cricket who has been worshipped as the God of cricket in India. The film reveals about the hardwork, dedication, disciple and love of Sachin towards cricket. His love story and many unknown facts to the world has been unveiled by Sachin himself which is the biggest surprise the film has. On the whole, Sachin: A Billion Dollar Dreams is all about Sachin Tendulkar and his achievements which made him worship as the God of Cricket. Watch the film to know about his story.
Analysis
Sachin: A Billion Dollar Dreams starts on an interesting note revealing about the life of Sachin. Right from his childhood days, Sachin takes it to narrate about many crucial phases that took place in his career. The film reminds about those days during which Sachin smashed the cricket ball taking back everyone to the world of Sachin's empire. Though it is a documentary, Sachin: A Billion Dollar Dreams assures the audience not to be disappointed. It has many interesting aspects narrated in the best available way.
The second half of the film too maintains the grip completely and it manages to stand tall. Those who are not much aware of cricket too will be related to Sachin's story as the film has been laced with many interesting aspects. Sachin narrating the story will relate the audience emotionally and he managed not to touch the controversies and the criticism that he faced during the tough times in his career. On the whole, Sachin: A Billion Dollar Dreams will end up as an impressive drama.
Performance
Sachin Tendulkar manages to connect with the audience emotionally with his voice over which drives the film. The screenplay and the execution which are the key points of the movie have been managed well that makes the film passable. The cinematography and the editing are the assets of the film. The production values have been decent and the director manages to stand tall with his abilities in churning out Sachin: A Billion Dollar Dreams into an impressive sports drama.
Final Word
Sachin: A Billion Dollar Dreams will drive you into the world of cricket and Sachin's contribution to the sport. An impressive drama that elevates the God of Cricket.
Stills from this movie
Videos & Trailers