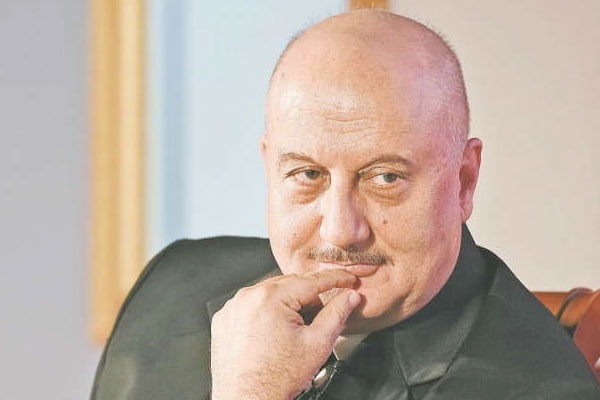 (Image source from: thewire.in)
From working in Indian films for over three decades to attaining worldwide renown with numerous global projects, veteran actor Anupam Kher, who is at present in the United States shooting for his novel American series "New Amsterdam," says he can never overlook Indian cinema for foreign projects.
"It feels good when I get recognition for my international movies and shows, but for me, my own (Indian) cinema is very much important. When I am in some foreign country, I always introduce myself as 'I am an international actor from India'.
"Being an Indian actor, I cannot overlook our cinema. And I feel there is no dearth of South Asian actors in world cinema because it completely depends upon the person whether he/she wants to act in international projects or not. Our Indian cinema is self-sufficient in its own way," Anupam told IANS.
The 63-year-old has played crucial roles in Oscar-nominated Hollywood movies like Silver Linings Playbook and The Big Sick. According to Anupam, he has "reinvented" himself by essaying the role of Vijay Kapoor in the show.
"Through New Amsterdam, one of the main things I have learned is the relationship between doctors and patients. For this show, we are shooting in a real hospital, so I often get a chance to meet patients and doctors. Interacting with the patients made me understand the real value of relations and emotions.
"Now I know what families go through if their loved ones are battling with some illness. I am evolving as a person with this project." As the show is already on air and is garnering a great response from viewers, Anupam considers this project a "huge achievement".
The versatile actor has been an entertaining audience with performances for over 30 years, be it his negative role in Dushmani or his comic avatar in Haseena Maan Jayegi. He has as well been feted with civilian honors like the Padma Shri and Padma Bhushan.
"A young boy from Shimla who dreamt of becoming an actor successfully paved a path in Bollywood and is now working in Hollywood. What else could I have asked for? I feel blessed that God has always been kind to me. This project has given me a different kind of achievement. I always wanted to do something different and now I have reinvented and explored my new side with New Amsterdam," he added.
Apart from his international projects, Anupam is also gearing up for his next Hindi film 'The Accidental Prime Minister,' a biopic based on the life of former Indian Prime Minister Manmohan Singh.
The actor said: "It took 4-5 months to make my body language similar to Manmohanji and a complete month for having control over my voice. It was not like 'Go inside (the make-up room) and come out (dressed) as Manmohan Singh'. The character demanded huge hard work and I tried my best to play the role with sincerity and conviction.
"Portraying Dr. Manmohan Singh's life on-screen was like a scientist working on his/her discoveries and theories because it is not easy to represent someone who is known by the world. Manmohan Singh is a politician and leader of this generation. People know everything about him. I hope I have done justice to his character."
-Sowmya