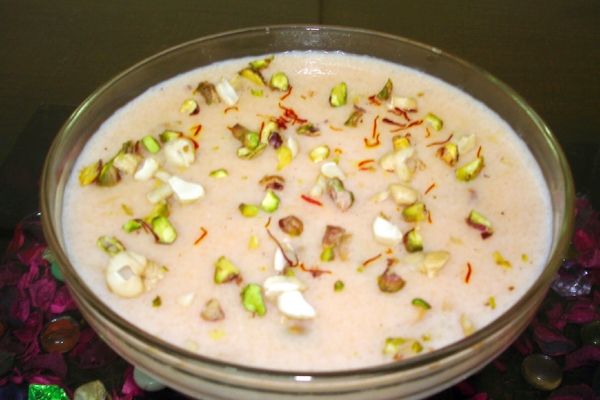 Kesar Phirni is a sweet dish with saffron flavour. The Yummy sweet dish is made with rice and milk. The delicious dessert is easy to make and less time consuming.
Ingredients
Milk: 1 litre
Basmati rice: 50grams (Soaked)
Sugar: 1 Cup
Green Cardamom Powder: ½ teaspoon
Pistachios: 8-10 (Chopped)
Rose water: To taste
Kesar (Saffron): To taste
Method:
Take a deep pan and bring the milk to Boil
Then, lower the heat and let it simmer until it reduces a little.
Grind the soaked rice to a coarse paste.
Add a little milk to it and mix to make a little thinner.
Add the sugar to the remaining milk and keep boiling.
Then, add the rice paste to the hot milk and stir continuously.
Next add the cardamom powder and the rose water.
Set aside in small matki's.
Put it in the refrigerator serve warm or cold.
Also Read: Yummy Banana Sheera!
Nandini