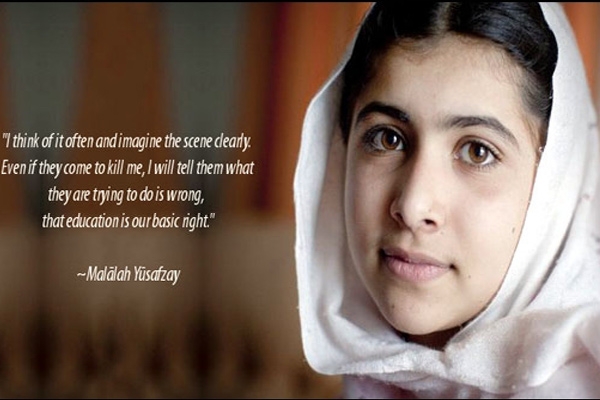 (Image source from: Empowering education of women)
General Shaikh Mohammed bin Zayed Al Nahyan, Crown Prince of Abu Dhabi and Deputy Supreme Commander of the UAE Armed Forces, on Monday received at Al Bahr Palace Pakistani girl, Malala Yousafzai, who was attacked last year in her village of Mingora, over calling for girls' education.
Interestingly, on her way to perform Umrah, Malala was known to have stopped over in Abu Dhabi to thank the UAE as well General Shaikh Mohammed for their assistance along with support during her ordeal, noting that Gen. Shaikh Mohammed's role highlights the humanitarian aspects of Islamic religion teachings. 
Furthermore, Gen. Shaikh Mohammed appreciated the determination exhibited by Malala to overcome difficulties so that she would continue her noble mission, adding that it was a duty of all people to standby Malala, while she is spreading the principles of love and peace. He hoped that Malala would be a paradigm shift in spreading the education worldwide. General Shaikh Mohammed expressed that the education of women was a basic right in accordance with the Islamic religion teachings, indicating that the UAE was well ahead regarding the empowerment of women in the area of education so as to discharge their roles in accordance with the legacy outlined by the late Shaikh Zayed bin Sultan Al Nahyan.
General Shaikh Mohammed often excessively expressed the interest of the President, His Highness Shaikh Khalifa bin Zayed Al Nahyan, in empowering women to play their critical  role in comprehensive development.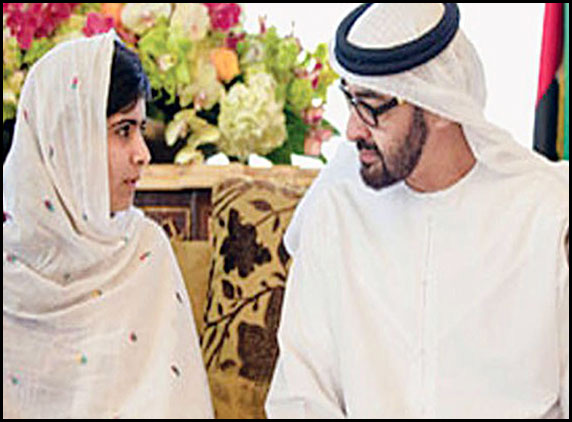 General Shaikh Mohammed added that the Emirati women scored many achievements in all fields, especially as an authority of the efforts of Shaikha Fatima bint Mubarak, Supreme Chairwoman of the Family Development Foundation, Chairwoman of the General Women's Union and Chairwoman of the Supreme Council of Motherhood and Childhood, in supporting the women and contribution to the nation-building, as well as driving Emirati women towards occupying the leading and executive posts in the country while he also referred to Shaikha Fatima's humanitarian role, especially in the areas of women and childhood. 
Arousing absolute horror, Malala was shot on the head on October 9, 2012, while she was returning home from school in Wadi Swat, Pakistan, due to the fact that she had her defence of women's right for education. Spontaneously she was rushed to the UK for the treatment upon the efforts influenced by the UAE.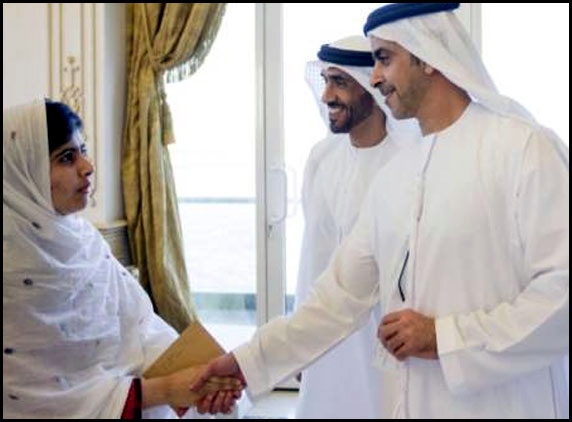 Gradually, she got recovered at the same time returned back at school.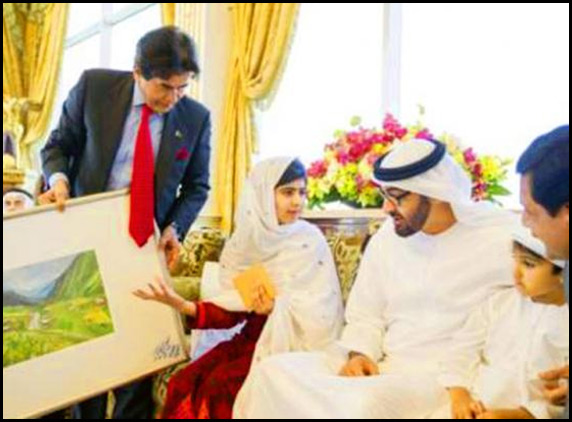 That was truly Gods grace that she survived.
Today, the prominent fact persist that she will always be a strong source of inspiration for womanhood and in a broader sense the humankind!
May God bless her with a long life ahead!

Content Source:Khaleej Times
Image Source:  Malala Yousafzai, Crown Prince of Abu Dhabi

(AW:Samrat Biswas)