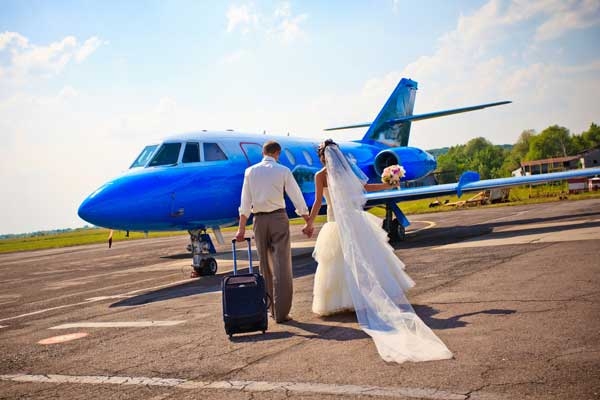 (Image source from: House of Coco)
Are you getting married to an NRI or someone living overseas? In that case be sure to be clear about each and every before the nuptials.

Since scores of families or men are moving abroad for better opportunities or lifestyle, a lot more weddings with Non-Resident Indians (NRIs) has turned out to be a common sight, concurrently, leading to mounting incidents involving NRI husbands deceiving their partners in India.

Therefore, there are a few things that you should certainly bear in mind before you choose to say "I do" to an NRI.
Know His Visa Status
As soon as you know if he is on a permanent residence or a work permit or a citizen of xyz country, coming to the right decision is slightly easier.

If your soon-to-be life partner is on a work permit, check all the facts and details and know if you shall be able to be with him after the wedding and how long would the procedure take.

Getting married to someone on a temporary visa is nothing but a risk. Do not pay attention to relatives who tell you that it is okay to get married to someone without a permanent residence visa or citizenship. They are not going to benefit you in any means if you and/or your partner get kicked out of the country.

Knowing the visa status is moreover very significant because depending on your spouse's visa, you will be able to understand how long would it take for you to join them in their place of residence.
Know His Lifestyle
Though you might have born or studied in big cities and institutions, moving to another country is not laidback.

A transformation in way of life and choices is inevitable. Try to understand his feelings, his friend-circle, what does he do for fun and what does he expect from his partner. Then try to imagine yourself in that lifestyle or something similar.

Realize how easy or hard would it be for you to cope up with all the major changes before reaching a decision. Your English might be in fact good, but the knowledge of different accents is like a boundless process.

Be ready to hear people speaking in English in 200 different ways and also, you will have to speak in English generally. Be willing to learn an additional language like French or Spanish etc., depending on wherever you may have to move.
Communicate Clearly
Get all your questions answered without being shy and coy as it's your life and you need to be in charge for it.

It is one of the most vital choices of your life. Video chats are better. Nobody is too busy to text or talk if they are considering marriage.

If they can't give you time now it either means they are not interested or they are not sure about getting married at the moment. Whoever wishes to get married, will take out the time to get to know you and communicate at will. Do not compromise on communication.
Be Patient
Long distance relationships are not easy to cope as there can be gaps in communicating or you may have shorter chats, but you need to be easy-going if the person is right and you wish to take things forward.

Patience is the key when you have agreed to the wedding because now you will realize that you need to start preparing stuff for paper-work and interviews.

Also, be prepared, depending on the country you shall be moving to and depending on the spouse's visa status, your own visa may take anywhere between 2 months to 16 months to be processed before you successfully join your spouse and his family.
Explore Career Options
Know that you will not get a job instantly and it may take some time till you find a decent and stable job in a foreign land.

Also, make certain you know that the spouse visa you have applied for has the provision wherein you shall be able to work when you move to the other country.
Don't Be Embarrassed to Ask for Details
There is nothing wrong in taking expert assistance to get a detailed background check or ask for the person's social security number.

It is all right to hire a detective and to check the presence on social media and get an idea about the friend-circle and way of life. Do not take your decision on the basis of anyone. It is your life and will have an emotional impact on your family and you, so there is nothing wrong in being cautious and being prepared.

Ultimately, the only mantra to tackle the NRI situation is to be well informed, patient and conscious.

-Sowmya Sangam