In Pictures: The Sheer Love of Indian Girl and an American Guy and Their Happy Ending
May 31, 2019 10:44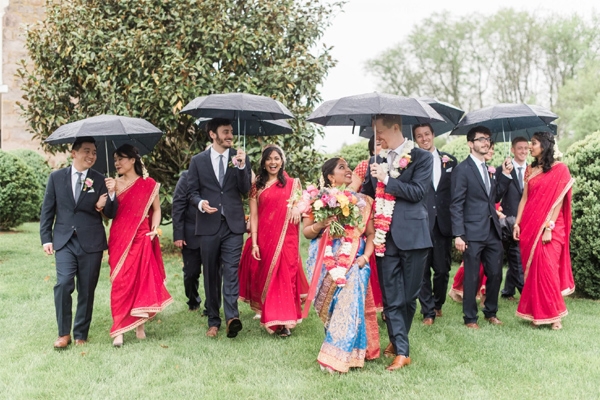 (Image source from: Washingtonian)
'Love recognizes no barriers', and the saying is held to be in accordance with reality patently, at least for this Indian girl and American boy who fell head over heels in love and got married in chic, perfectly capturing both of their worlds with delicious fusion menu and a bright, bold aesthetic.
Sudha and Dan Gilbert's Indian-American wedding was no less than a dream wedding. "We were definitely making our own traditions with this wedding," says Sudha, "especially since we were fusing two cultures together."
The couple married at the Riverside on the Potomac and blended their backgrounds by opting for lots of colorful decors, such as a one-of-a-kind hanging floral arch, and a menu that featured a variety of Indian and American dishes.
Formal invitations featured navy and gold detailing on white stationery.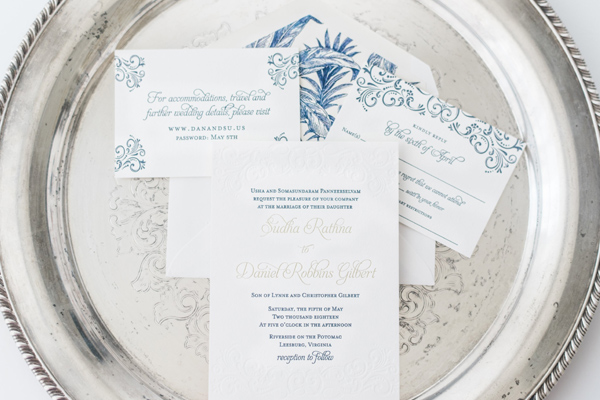 (Image source from: Washingtonian)
Bright flowers such as peonies, garden roses, carnations, and thistle were used in the couple's floral arrangements. "We used a little of everything that was seasonal," Sudha says.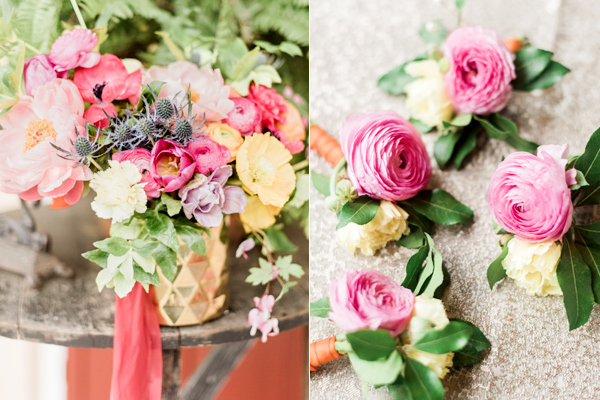 Sudha described her bouquet as "basically an explosion of springtime flowers," and embraced her heritage by wearing a colorful sari. She completed the look with her hair pulled back in an elegant updo accessorized with a Maang Tikka.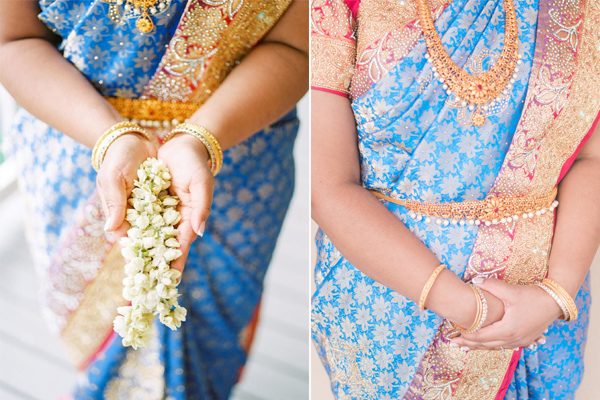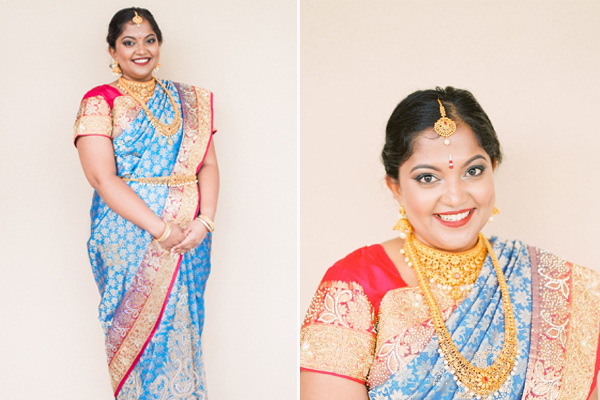 In lieu of bridesmaid bouquets, the bride had her 'maids wear custom floral cuffs instead.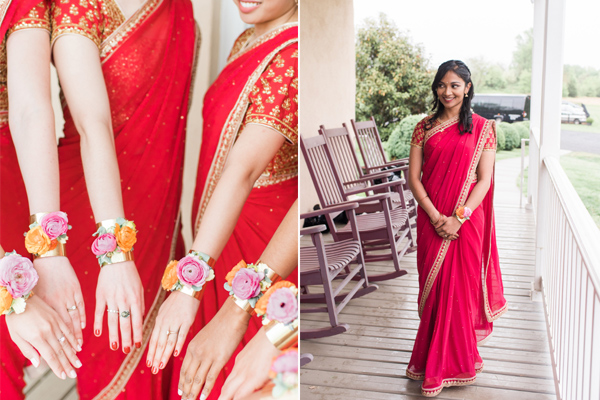 The ceremony altar featured hanging carnations and was one of Sudha's favorite wedding details. "It looked like it was actually raining carnations," she says.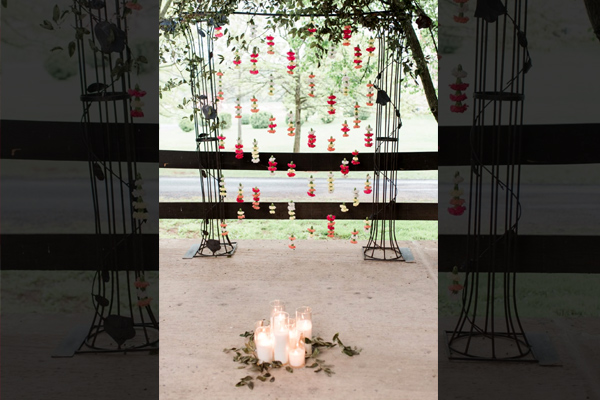 (Image source from: Washingtonian)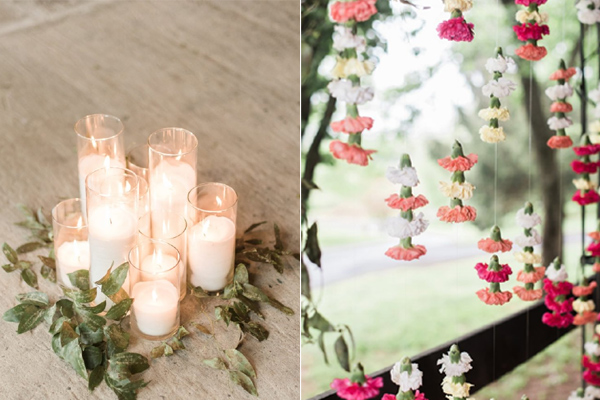 Sudha and Dan's wedding included several Hindu traditions.
After the ceremony, Sudha changed into a boho-inspired gown that featured a relaxed silhouette, all-over lace, and a high neckline.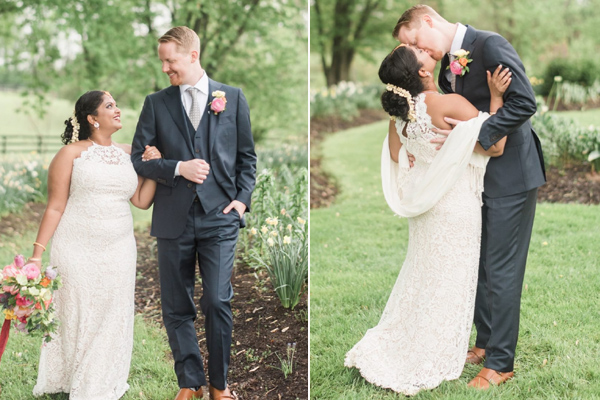 Blossom of Love
The couple met in Boston while the bride was finishing up college. "I have to admit I almost missed our first date," Sudha says. She wasn't feeling well (and may have had a case of the butterflies), but one of her friends convinced her not to cancel. ("I'm so glad she did!") Sudha agreed to grab a coffee with Dan and they instantly clicked. "By the end of the date, we both looked at the time and realized with surprise that more than three hours had passed," says Sudha. "We were so wrapped up in conversation that time had just flown by."
For dinner, the couple opted for two different buffet stations. "We had amazing caterers that served a variety of fantastic contemporary American cuisine, and even allowed us to bring in Indian dishes from a favorite restaurant of ours," Sudha says. The American buffet included sirloin steaks and cedar-wrapped salmon, with sides of rosemary fingerling potatoes and broccolini; the Indian buffet offered guests kurma, pulao, biryani, masala, and naan. "Our priority was to make [our wedding] special for each other and fun for our all of our guests," says Sudha.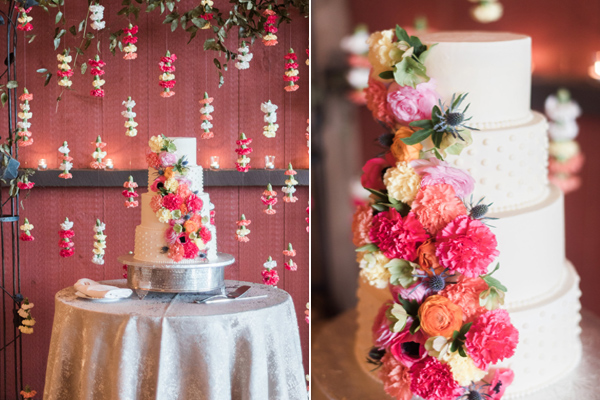 After dinner, a four-tiered cake adorned with cascading florals and hand-piping details was cut and served.
By Sowmya Sangam