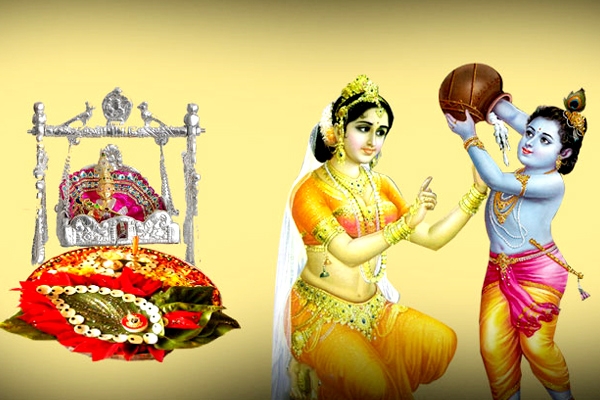 Janmashtami commemorates the earthly appearance of Krishna, who is described in India's sacred writings as God Himself. It is one of the biggest religious festivals in the world, which is celebrated by nearly nine hundred and thirty million people around the world, and two million in the US alone. In 2016, Janmashtami is celebrated on August 25th and Dahi Handi will be celebrated on August 26th.
Wherever Vaishnava temples exist, festivities begin before dawn and extend all day until midnight, the exact moment of the anniversary of Krishna's appearance. Events include kirtan, singing the Lord's name along with other devotees, and japa, private, more intimate prayer. Some devotees cook a feast of over one hundred dishes, while others perform drama and dance. Some clothe and decorate the deity of Krishna while others string enormous flower garlands and other decorations for the temple. Scriptures are read,which is an important part of the celebration and all but the young and the infants fast all day.
Finally, at midnight, priests pull apart the curtains to reveal the freshly dressed deity of Krishna on a creatively festooned and colored altar.
Many people celebrates Janmastami at their home, inviting family and friends. They decorates their home for Krishna, hanging balloons and festoons of leaves, and generally making the house beautiful for Krishna's appearance.
They usually take a copy of the Vaishnava Songbook and choose some of the favorite bhajanas(devotional songs in praise of God) to sing. Krishna, also known as Murlidhara, or "one who holds the flute," loves music. And so the friends and family, turns singing and playing instruments. Alternatively, they also play bhajan CDs to heighten the spiritual atmosphere.
If they have Radha-Krishna deities, they get extra special new outfits for Them, exercising creativity and paying special attention to decorating Their altar.
Sometimes a midnight arati (worship ceremony) with a Kirtan are also arranged at home.
This year Dahi Handi will be celebrated on 26th August. On this day, there is a special event which takes place at Mathura, Vrindavan that features dramatic enactments of the life of Lord Krishna. The Rasa lila shows the other flirtatious side of Lord Krishna during his young days. Devotees celebrate Dahi Handi festival that celebrates God's playful side where he used to break the pot of curd which was kept at the height. Slowly and steadily, this tradition and ritual has became a major event in some parts of India.
Krishna Janmashtami festival is followed by the festival Nandotsav, which is the occasion when Nanda Baba distributed gifts to the community in honour of the birth.
According to mythological stories, Sri Krishna was born in a prison in the custody of King Kansa. Lord Krishna's father Vasudev, immediately handed over his child to his friend Nand and and saved his child's life. Lord Krishna further grew up in Gokul and soon killed his uncle Kansa.
People who fast on the day of Janmashtami are suppose to take one single time meal and they are even suppose to take a Sankalpa which must be taken after finishing the entire morning rituals. Devotees observe one day long fast. This fast breaks the next day after Rohini Nakshatra and Ashtami Tithi gets over that is after sunrise.
The first ever elected government official in the world to issue a proclamation for the celebration of Janmashtami is by Janet Napolitano, while she was the Governor of Arizona.
Also Read: Rakhsha Bandhan, festival of togetherness
By Prakriti Neogi