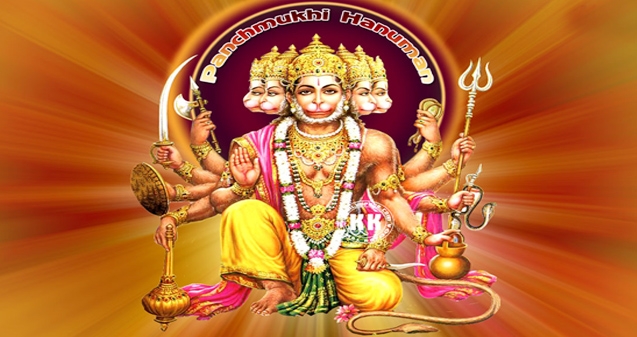 Hanuman Aarti completes the worship or prayers made to the God. It is believed that aarti provides a completion to the puja .This aarti of Shri Hanuman is also known Bajrangbali Aarti.
Aarati Keejai Hanuman Lalaa Kee,
Dushta Dalan Raghunath Kalaa Kee,
Jaakay Bal Say Girivar Kaapay,
Roga Dosha Jaakay Nikat Na Jhaakay,
Anjani Putra Mahaa Baldayee,
Santan Kay Prabhu Sadaa Sahaayee
Day Veeraa Raghunath Pathaayay
Lankaa Jaaree Seeya Sudhi Laaye
Lankaa So Kota Samudra See Khaayee,
Jaata Pavansut Baar Na Laayee,
Lankaa Jaari Asur Sab Maaray,
Seeyaa Raamjee Kay Kaaj Savaaray,
Lakshman Moorcheet Paray Dharanee May,
Aani Sajeevan Praan Ubaaray,
Paithi Pataal Towri Yam Kaaray,
Ahiraavan Ke Bhujaa Ukhaaray,
Baaya Bhuja Asur Sanhaaray,
Dahinay Bhujaa Sab Sant Ubaaray,
Sur Nar Muni Jan Aarati Utaaray,
Jai Jai Jai Hanuman Jee Uchaaray,
Kanchan Thaar Kapoor Kee Baatee,
Aarati Karat Anjani Maayee,
Jo Hanuman Jee Kee Aarati Gaavai,
So Baikuntha Amara Pad Paavai,
Lanka Vidvans Kiye Raghuraayee,
Tulsee Daas Swami Keerati Gaayee.
source : iloveindia