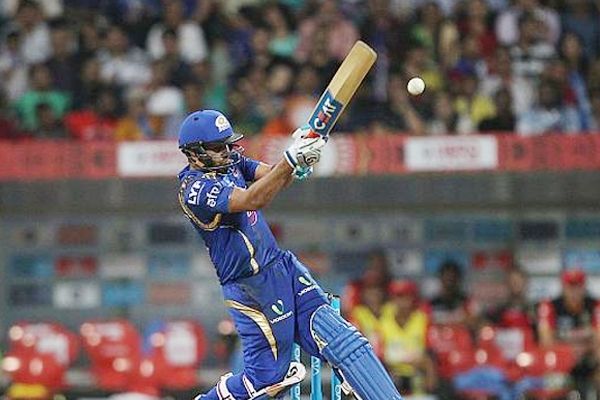 Mumbai Indians 171 for 4 (Rohit 62, Pollard 40*, Abdulla 3-40) beat Royal Challengers Bangalore 170 for 7 (Head 37, Kohli 33, Bumrah 3-31, Krunal Pandya 2-27) by six wickets.
Rohit Sharma returned to his familiar batting position which has brought him to considerable success to thwart Royal Challengers Bangalore's designs, in the process of helping Mumbai Indians to revive their campaign with a six-wicket win. Rohit made a 44-ball 62 as Mumbai overhauled Royal Challengers' 170 for 7 with 12 balls to spare.
Krunal Pandya's twin strikes to get rid of Kohli and de Villiers in the space of five deliveries stunned Royal Challengers. Shane Watson fell not long after, but Travis Head, on IPL debut and Sarfaraz Khan lifted the Royal Challengers from 99 for 4 to 170 for 7.
Mumbai lost Parthiv Patel in the second over of the chase, but Varun Aaron's third over, brought their innings back on track.
Mumbai Captain and Man of the Match, Rohit Sharma credits his bowlers for not allowing Bangalore to cross 200 mark. He credits his spinners as there was nothing for them on the pitch, but still they managed to take crucial wickets.  He expressed his happiness with the team game as everyone took the responsibilities.
Score Card
Royal Challengers Bangalore innings (20 overs maximum)

 

 

R

B

4s

6s

SR

 

 

 

V Kohli*

c Southee b KH Pandya

33

30

3

0

110

 

 

 

KL Rahul†

c Harbhajan Singh b McClenaghan

23

14

2

2

164.28

 

 

 

AB de Villiers

st †Patel b KH Pandya

29

21

3

1

138.09

 

 

 

SR Watson

c †Patel b Bumrah

5

10

0

0

50

 

 

 

TM Head

run out (Harbhajan Singh/†Patel)

37

24

2

2

154.16

 

 

 

SN Khan

c KH Pandya b Bumrah

28

18

2

2

155.55

 

 

 

STR Binny

c HH Pandya b Bumrah

1

2

0

0

50

 

 

 

HV Patel

not out

0

0

0

0

-

 

 

 

KW Richardson

not out

1

1

0

0

100

 

 

 

Extras

(b 1, lb 2, w 10)

13

 

 

 

 

 

 

 

Total

(7 wickets; 20 overs)

170

(8.50 runs per over)

 

 

 

 

 

 

Did not bat

Iqbal Abdulla, VR Aaron

 

 

 

 

 

 

 

 

 

 

 

 

 

 

 

 

 

 

1-32 (Rahul, 3.5 ov), 2-91 (Kohli, 10.2 ov), 3-93 (de Villiers, 10.6 ov), 4-99 (Watson, 13.3 ov), 5-162 (Head, 19.1 ov), 6-169 (Khan, 19.4 ov), 7-169 (Binny, 19.5 ov)

 

 

 

 

 

 

 

 

Bowling

O

M

R

W

Econ

0s

4s

6s

 

TG Southee

4

0

25

0

6.25

11

3

0

 

MJ McClenaghan

4

0

46

1

11.5

10

3

4

 

JJ Bumrah

4

0

31

3

7.75

8

3

1

 

Harbhajan Singh

2

0

20

0

10

3

3

0

(2w)

KH Pandya

4

0

27

2

6.75

8

0

0

(4w)

HH Pandya

2

0

18

0

9

4

0

2

 

 

 

 

 

 

 

 

 

 

 

Mumbai Indians innings (target: 171 runs from 20 overs)

 

 

R

B

4s

6s

SR

 

 

 

RG Sharma*

c de Villiers b Iqbal Abdulla

62

44

4

3

140.9

 

 

 

PA Patel†

c de Villiers b Richardson

5

6

1

0

83.33

 

 

 

AT Rayudu

c Richardson b Iqbal Abdulla

31

23

5

0

134.78

 

 

 

JC Buttler

c Watson b Iqbal Abdulla

28

14

2

2

200

 

 

 

KA Pollard

not out

40

19

4

3

210.52

 

 

 

HH Pandya

not out

2

3

0

0

66.66

 

 

 

Extras

(w 2, nb 1)

3

 

 

 

 

 

 

 

Total

(4 wickets; 18 overs)

171

(9.50 runs per over)

 

 

 

 

 

 

Did not bat

KH Pandya, Harbhajan Singh, JJ Bumrah, MJ McClenaghan, TG Southee

 

 

 

 

 

 

 

 

 

 

 

 

 

 

 

 

 

 

1-6 (Patel, 1.1 ov), 2-82 (Rayudu, 10.2 ov), 3-109 (Sharma, 12.6 ov), 4-140 (Buttler, 15.4 ov)

 

 

 

 

 

 

 

 

Bowling

O

M

R

W

Econ

0s

4s

6s

 

VR Aaron

4

0

37

0

9.25

9

3

1

(1nb)

KW Richardson

3

0

26

1

8.66

8

2

2

 

SR Watson

4

0

40

0

10

8

6

1

(1w)

HV Patel

2

0

20

0

10

4

2

1

 

Iqbal Abdulla

4

0

40

3

10

6

2

3

(1w)

STR Binny

1

0

8

0

8

1

1

0

 
By Premji