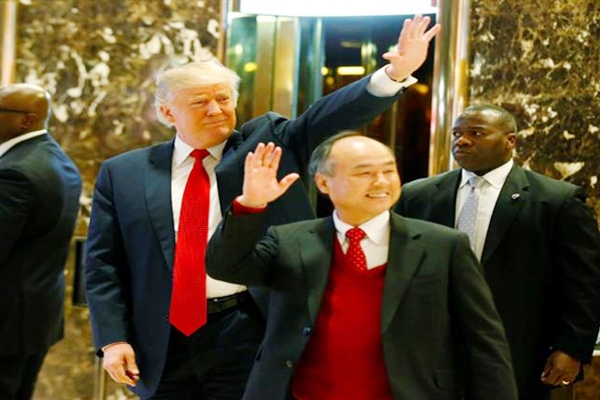 The United States president-elect Donald Trump has announced a US $50 billion Japanese telecoms investment. The investment aims to create 50,000 US jobs, claiming another high-stakes personal win for the American economy ahead kicking off the second leg of a victory rally.
The US business tycoon did not provide any details on the jobs and investment, that he trumpeted after a meeting with Japanese self-made billionaire Masayoshi Son at his headquarters in New York.
The president-elect said that, "This is Masa of SoftBank from Japan and he's just agreed to invest US $50 billion in the United States and 50,000 jobs."
"He's one of the great men of industry, so I just want to thank you very much," added Trump before turning to shake the Japanese magnate's hand.
"I just came to celebrate his new job," said Son. He also repeat his statement, that, SoftBank would be investing in start-up companies in America.
"Masa said he would never do this had we (Trump) not won the election!" the maverick Republican wrote on Twitter.
Earlier, an agreement with air-conditioning plant Carrier was announced before his inaugural victory rally in Ohio, and has raised his stock among Republican and Democrat voters alike.
Also Read: Donald Trump speaks with Taiwan's leader!
Nandini