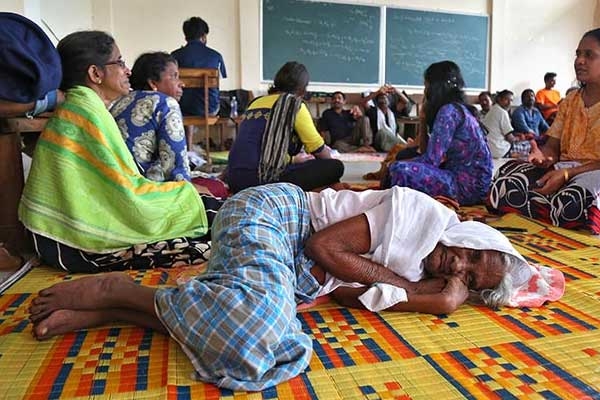 (Image source from: Rediff.com)
A three-member team of the United Nations Children's Fund (UNICEF) on Friday visited the relief camps in Alappuzha district of the deluge-hit state of Kerala, following which, they heaped praises on the state government and district authorities regarding the facilities provided in the camp.

The team from New York came to Kerala to visit the relief camps in the affected areas.

Some of the main aspects that the team inspected were hygiene, quality of food in the camps, safety and waste management.

Following their visit to the relief camp at SN College in Alappuzha, the team had shared their contentment over the facilities in the camp.

Banku Bihari Sarkar, an emergency officer at the UNICEF and part of the 3-member team wrote in the visitor's diary of the SN college camp that it was the best relief camp he has seen in his 20 years career.

"Highly professional approach, neat and clean, good food is being provided, health services, safety, and security are good and overall everybody in the camp is very happy," he wrote in the diary.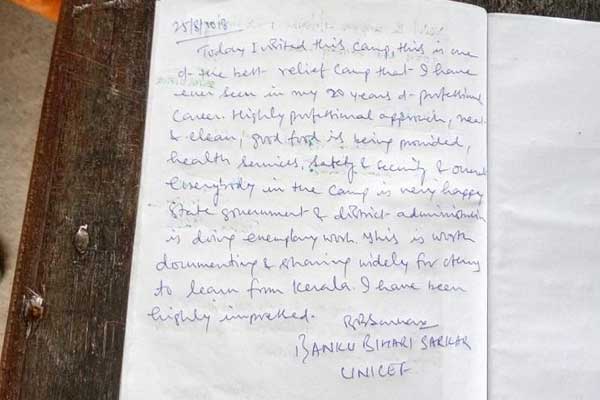 Image source: The News Minute
Sarkar also went on to praise the state government and the district administration.

"State Government and the district administration is doing exemplary work. This is worth documenting and sharing widely for others to learn from Kerala. I have been highly impressed," he wrote.

The Alappuzha district collector, S Suhas on Friday took to Facebook to share a picture of the note written by Sarkar.

According to data from the Disaster Management State Control Room, there are 668 relief camps in Alappuzha which house 78,231 families and over 2,85,904 people.

Kerala was hit by the worst floods in a century earlier this month. Over 350 people have been killed since the monsoon began on May 29, over 8 lakh people are presently taking shelter at over 2200 relief camps across the state.

By Sowmya Sangam