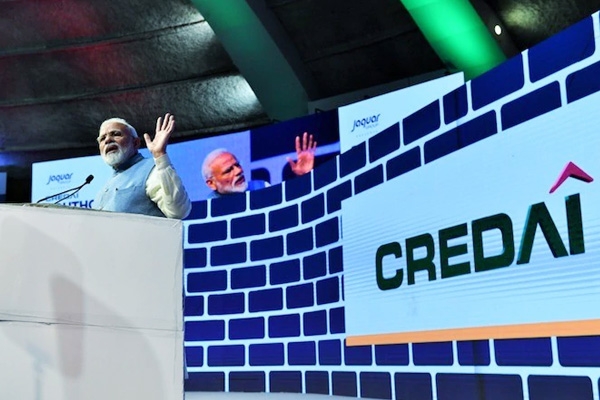 (Image source from: Narendramodi.in)
The Prime Minister,Narendra Modi addressed the CREDAI YouthCon-2019, at Talkatora Stadium, in New Delhi.
CREDAI- The Confederation of Real Estate Developers Association of India.
It was established in 1999, CREDAI is the top body of all registered real estate builders and developers in India.
Addressing the audience, Prime Minister Modi said that work is progressing at a fast pace to see that every homeless person has a house by 2022.
He said that "around 1.5 crore houses has been built through PM Awas Yojana, out of which 15 lakh houses were built for the poor in urban areas."
He said that under the present NDA Government, there is transparency in the entire process. He mentioned that when a Government frames policies with the right intent, it will result in the elimination of corruption and better results. 
PM Modi said that "Real Estate Regulatory Authority (RERA) has strengthened the trust between the customers and the Real Estate Developers.  He said that RERA has been notified in 28 states."
"More than 35000 Real Estate Projects and 27000 Real estate agents have registered under RERA, and lakhs of flats are being built," he said.
Talking about quantum jump in Ease of Doing Business rankings in the last four years, PM said that "Government is committed towards ensuring Ease of Doing Business in India. In this context, he mentioned that all Government permissions, including construction permits are being issued faster than before."
He also mentioned about the tax reforms initiated by the Central Government to aid the housing industry and home buyers.
He talked about the reduced GST rates for various construction items. He also spoke about the income tax benefits introduced for middle class in the recent Budget. He said that the cumulative effect of these initiatives will help the housing sector and the home buyers.
The Prime Minister praised CREDAI for their immense contribution in fulfilling the dreams of ordinary citizens of owning a house.
He added that the YouthCon is happening at a time when a 'New India' is being shaped and especially youth of the nation has an crucial role to play in represent a New India. 
Earlier, PM visited the exhibition organized by CREDAI before addressing the gathering.
-Sai Kumar