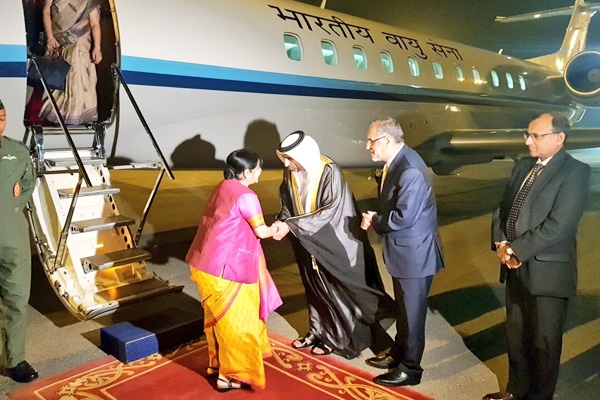 External Affairs Minister (EAM) Sushma Swaraj arrived in Abu Dhabi to attend the foreign ministers' meet of the Organisation of Islamic Cooperation (OIC) countries where she is expected to speak on terrorism,against the backdrop of India-Pakistan tensions after the Pulwama terror attack.
She will address the inaugural plenary of the two-day meeting on Friday. It is first time that India has been invited to a meeting of the OIC, a crucial group of 57 Islamic states, as the guest of honour.India's engagement with the OIC comes in the amid tensions between India and Pakistan.
The relations further deteriorated after IAF jets strikes terror group Jaish-e-Mohammed's biggest training camp near Balakot deep inside Pakistan early Tuesday. Pakistan carried out a retaliatory aerial raid on Wednesday.
"EAM @SushmaSwaraj arrives in #AbuDhabi for the Ministerial Meeting of @OIC_OCI. India has been invited by HH Sheikh Abdullah bin Zayed Al Nahyan, Foreign Minister of UAE as the 'Guest of Honour'," External Affairs Ministry spokesperson Raveesh Kumar tweeted.
Recognising India's engagement with the Islamic world

EAM @SushmaSwaraj arrives in #AbuDhabi for the Ministerial Meeting of @OIC_OCI. India has been invited by HH Sheikh Abdullah bin Zayed Al Nahyan, Foreign Minister of UAE as the 'Guest of Honour'. pic.twitter.com/wzQbVOGczN

— Raveesh Kumar (@MEAIndia) February 28, 2019
Pakistan Foreign Minister Shah Mehboob Qureshi Pakistan's Parliament said that he had earlier expressed his reservation against Sushma Swaraj's invitation but the Organisation of Islamic Cooperation had informed him that the invitation was extended before the Pulwama terror attack, hence retraction would be difficult. "I requested them to review the decision [to extend invitation to Sushma Swaraj]. UAE said that when we extended the invitation, Pulwama had not occurred. If it had, the case would have been different. Now we have extended invitation it would be hard to retract but they would still consult," he said
Earlier in a statement India was Being Invited to OIC meet as 'Guest of Honour', it said "The friendly country of India has been named as the guest of honour in view of its great global political stature as well as its time-hounoured and deeply rooted cultural and historical legacy, and its important Islamic component."
In response India accepted the invitation, "We also see this invitation as a welcome recognition of the presence of 185 million Muslims in India and of their contribution to its pluralistic ethos, and of India's contribution to the Islamic world."
-Sai Kumar