Attorney General William Barr Face Accusations For Protecting Trump In Rollout Of Mueller Report
April 18, 2019 13:24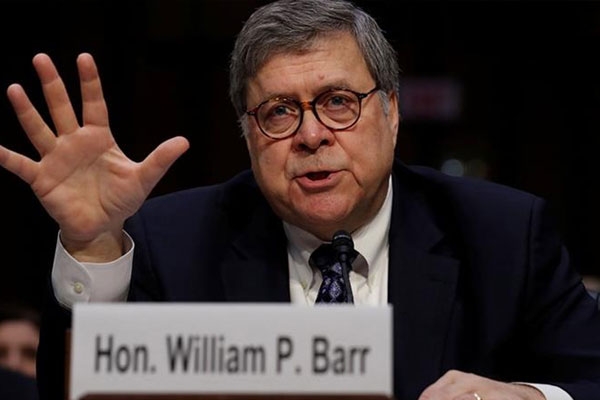 (Image source from: aljazeera.com)
In the recent light of events, the democrats have condemned the move made by Attorney General William Barr in handing out the much anticipated report by the special counsel, Robert Mueller. The democrats are seeking for him to cancel the planned news conference on Thursday about Mueller's findings prior to releasing the report out to the public.

In a twitter ramble made by the House Intelligence Committee Chairman Adam Schiff, D-Calif, he stated saying, "Once again, Barr wants to shape the public's perception of the report. This is not justice. Just PR."

According to the outbursts from the House representatives, they have clarified this move as unnecessary as well as inappropriate and henceforth called for the release of the full report. The statement further suggests that these new actions by the Attorney General are nothing but a motive to protect President Trump.

The statement further clarified saying, "He should let the full report speak for itself. The Attorney General should cancel the press conference and provide the full report to Congress, as we have requested. With the Special Counsel's fact-gathering work concluded, it is now Congress' responsibility to assess the findings and evidence and proceed accordingly."

If reports are to be believed, it has been said that Barr and Deputy Attorney General Rod Rosenstein are going to hold a news conference at 09:30 AM, as said by the Justice department spokesperson Kerri Kupec. The same report will be handed over to Congress by 11:00 AM EDT following which the same will be made public.

House Speaker Nancy Polesi was definitely not satisfied with the decision and showcased her opinions on the matter via twitter stating the following:
AG Barr has thrown out his credibility & the DOJ's independence with his single-minded effort to protect @realDonaldTrump above all else. The American people deserve the truth, not a sanitized version of the Mueller Report approved by the Trump Admin. https://t.co/fgXwiLuQfr

— Nancy Pelosi (@SpeakerPelosi) April 17, 2019
This is not the first time that Nancy Polesi has spoken out about the issue and thrown some much needed light on the matter. Her opinions concerning General Barr trying to protect Trump has been professed before too and this tweet is the witness of that.
Attorney General Barr is not the Attorney General of Donald Trump. He is the Attorney General of the United States. It's about time he started acting like it. https://t.co/61pCkAICyg

— Nancy Pelosi (@SpeakerPelosi) April 10, 2019
It is not just her but several other thought leaders have spoken out against Barr concerning his latest decision on this matter.

Some of the evident ones that the platform of Twitter did witness along include:
I'm deeply troubled by reports that the WH is being briefed on the Mueller report AHEAD of its release. Now, DOJ is informing us we will not receive the report until around 11/12 tomorrow afternoon — AFTER Barr's press conference. This is wrong. #ReleaseTheReport https://t.co/bR50HhGJ0i

— (((Rep. Nadler))) (@RepJerryNadler) April 17, 2019
Attorney General Barr wrote to me on April 1: "I do not believe it would be in the public's interest for me to attempt to summarize the full report." I agree. So why is the AG holding a press conference tomorrow morning to go over the Mueller report? #ReleaseTheReport https://t.co/UA9XyC55v5

— (((Rep. Nadler))) (@RepJerryNadler) April 17, 2019
So-called Attorney General is presiding over a dog and pony show.

Here is a thought.

Release the Mueller report tomorrow morning and keep your mouth shut.

You have ZERO credibility.https://t.co/fKFeexUKkX

— Hakeem Jeffries (@RepJeffries) April 17, 2019
Apart from this current onslaught of events, Barr was also criticized for this four page letter to the members of Congress which went over the aspects of Mueller's conclusions. Several of the members of the Mueller's team stated saying that Barr's letter did fail to portray the adequate findings of the inquiry.

Democrats have been very persistent in pushing Barr to release the full report without any kind of withholding and redactions. If there are any kinds of redactions made to the report, chances are that Barr will be subsequently criticized for the same.

By Somapika Dutta