After Harsh Rules on H-1B Visa, Donald Trump Now to Crackdown on High Visa Overstay Countries
April 24, 2019 10:53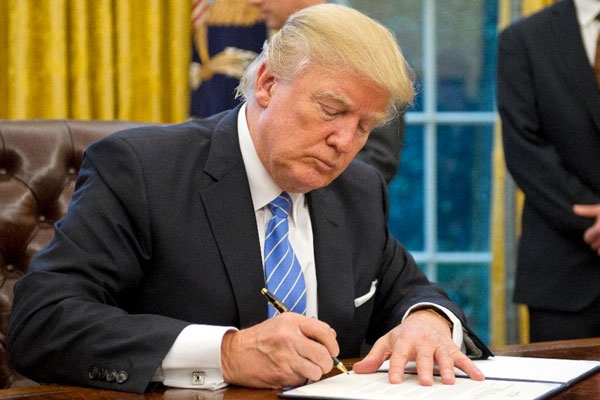 (Image source from: The American Bazaar)
After setting forth stringent rules for H-1B visa, the Trump administration is considering suspending or limiting entry to the United States for individuals from countries with high rates of short-term visa overstays.
In a memo signed Monday, Trump directed officials to examine new ways to minimize the number of people overstaying their business and tourist visas as part of a renewed focus on immigration as the 2020 campaign kicks into high gear.
The memo says the administration is considering developing "admission bonds" - people entering the country would pay a fee that would be reimbursed when they depart - in an attempt to improve compliance.
"We have laws that need to be followed to keep Americans safe and to protect the integrity of a system where, right now, there are millions of people who are waiting in line to come to America to seek the American Dream," Trump said in a statement.
More people are in the United States because they overstay visas than because they cross the border illegally, according to the nonpartisan Center for Migration Studies. Some of the countries with high overstay rates include Chad, Djibouti, Eritrea, Liberia, the Solomon Islands, Benin, and Burkina Faso. According to officials, 20 countries have rates over 10 percent.
The memo gives homeland security and the secretaries of state 120 days to come up with recommendations, including potentially limiting how long visas last.
The move of restricting travel from high overstay countries is part of a long list of proposals being tossed around by officials as they try to appease a president who has been agitated over the flow of migrants at the border as he makes effort to make good on his 2016 campaign promises and stimulate his base going into 2020.
Plans are also in the progress to have border patrol agents, instead of asylum officers, conduct initial interviews to ascertain whether migrants seeking asylum have a "credible fear" of returning to their country of origin. In addition, the administration has been weighing targeting the remittance payments people living in the country illegally send home to their families and moving forward with plans to penalize immigrants in the country legally for using public benefits, such as food stamps.
By Sowmya Sangam