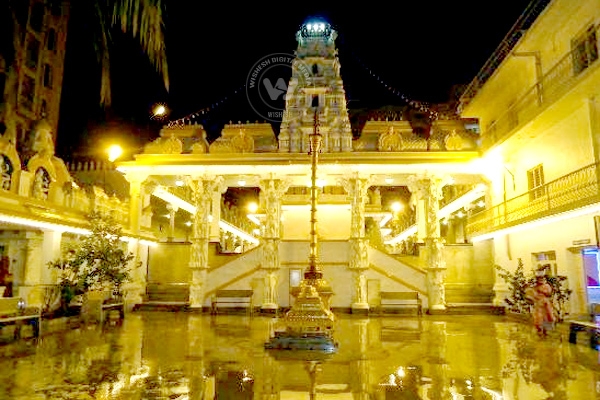 (Image source from: })
Modern IT city Bengaluru has more than 1,000 temples dated back as early as the 10th century. Visit to a temple in the heart of the modern IT city is worthwhile, even if you are religious or not. The temple is not only the place to dwell with god but also the place to dwell with peace and sacrifice. Ancient temples symbolize our rich history, culture and tradition. Here are few among the rich heritage of Hindu temples in Bengaluru.
Bull Temple at Basavanagudi (Dodda Basavana Gudi)
Located in NR Colony of South Bangalore, Dodda Basavana Gudi was built by Vijayanagara Empire's local ruler in 1537. The temple became famous as the World's biggest temple of Nandi measuring 20 feet in length and 15 feet in height. The statue of Nandi is a granite structure cut out of a single piece of rock. Nandi is the Hindu demi-god in the shape of a bull.
Ranganathaswamy Temple
Built in the 16th century, Ranganathaswamy Temple is located in Kalkunte Agrahara village in Bangalore portraying the Vijayanagara style of architecture. Dedicated to an incarnation of Lord Sri Maha Vishnu, Sri Ranganathaswamy, along with his consorts Sri Bhudevi and Neela Devi, the temple is visited by a big number of tourists every year. Chariot Festival (Rathotsavam) and Bangalore Karaga Festival are amongst the host of festivals held here, attracting devotees all across India.
Shiva Temple
Shiva Temple located on the Old Airport Road in Bangalore is a must visit tourist attraction featuring 65 feet tall statue of Lord Shiva. In the back drop of the mighty Himalayas, Lord Shiva is seen meditating in lotus position, surrounded by a pond. Your mind will be filled with a sense of spirituality and tranquility just by a single glace of the lord's towering statue. Lord Ganesha's idol that is 35 feet tall is another attraction.
Sri Suryanarayana Swamy Temple
Sri Suryanarayana Swamy Temple dedicated to Sun God displays a typical Chola style of architecture centering 3.25 feet high idol of Lord Suryanarayana. Devotees can also worship idols of Vaishnavi, Panchamukhi Ganesha, and Nagaraja and other gods. The 32 feet tall chariot is brought out on Rathasapthami Day annually, when thousands of devotees pull it.
Sugreeva Venkateshwara Temple
Located on Balepet Main Road in Bangalore, Sugreeva Venkateshwara Temple holds great religious importance. The holy temple is dedicated to one of the most important characters from Ramayana, the Hindu epic. Six feet tall statue of Sugreeva is featured at the temple in a folded hand position. Garbhagriha of the shrine also has Lord Venkateshwara's idol on a pedestal.
-Sumana