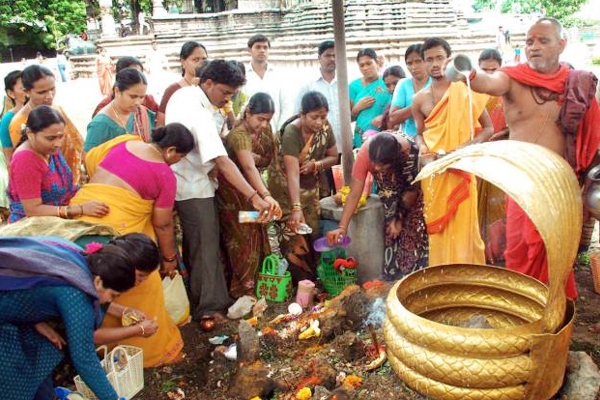 Nag Panchami is observed on the Shukla Paksha Panchami according to  the Hindu calendar month of Sawan. As per the Gregorian calendar Nag Panchami falls in the month of July or August. In 2016 Nag Panchami will be celebrated on the 7th of August. They worship the Nag Devta (serpent Goddess) and offer milk to her.
The story of Janamejeya whose father King Parikshit was killed by a snake named Taksaka was mentioned in Mahabharata. Angered, Janamejeya called for the greatest sacrifice which would kill all the snakes across the earth. The Sacrificial Fire was so magnanimous that all the snakes except Taksaka were drawn and dragged to the Fire. Taksaka hiding in the heavenly abode of King Indra was too dragged along with Indra as the Brahmins intensified the Fire. The gods, disturbed by the event, prayed to the goddess.
Manasadevi, for a peaceful solution, asked Astika, her son to pacify Janamejeya. King Janamejeya was astounded by the scriptural knowledge of Astika who asked for a boon from the King later. The King gave up his revengeful spirit and told Brahmins to stop the Fire. On that day all the snakes got their life back. Since then the Hindus has been worshiping the Nag Devta on the Nag Panchami day.
On this day, people offer milk, sweets or flowers to snakes. Generally, it is risky  and also not possible to have a real snake to worship. They bring' deity of the snake God, made of stone, wood or even painting. All the devotee then purify the deity with sacred bath and offer milk. Fast is observed on this day and Brahmins are fed. The rituals observed on this day has been considered as a sure protection against the snake bite. At many places, real snakes are worshipped on this day. In Nag Panchami day any digging on the earth is restricted as it could kill or harm snakes which reside in the earth. Sometimes, doorways and walls outside the house are painted with pictures of snakes with the auspicious mantras (spells) on this day. It is believed that such depictions will ward off poisonous snakes
Nag Panchami is celebrated at largely all over the country.
Also Read: Ugadi - the New Year of Happiness and Prosperity
By Prakriti Neogi